Cameroon's President Biya Wins Re-Election, Extending 36-Year Rule
(Bloomberg) -- Cameroon President Paul Biya easily won this month's elections to extend his 36-year rule by another seven years.
Biya obtained 71 percent of the vote in the one-round Oct. 7 election, the head of the Constitutional Council, Clement Atangana, said Monday. Security forces and police deployed in large numbers in all major cities to prevent protests as Atangana announced the result in the capital, Yaounde.
The outcome means that Biya, who's already Africa's second-longest serving head of state, will continue to rule the central African nation until at least the age of 92.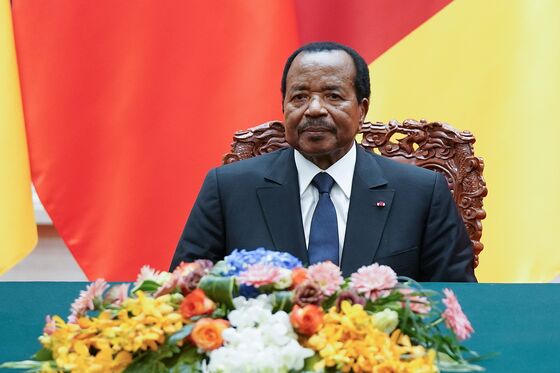 The election was overshadowed by a bloody separatist insurgency in the nation's two Anglophone regions that has left more than 400 civilians dead since 2016. Voters in the Northwest and Southwest regions largely stayed indoors and some of those who did cast their ballots said they received death threats from insurgents. Voter turnout was lowest in the Northwest region, at 5 percent, compared with 53 percent nationwide, according to Atangana.
'Totally Deceptive'
Opposition candidate Maurice Kamto came second with 14 percent of ballots cast, with the remainder of votes shared by seven other candidates, Atangana said. Kamto alleges that the poll was fraudulent and filed a petition to get it annulled, while one of the candidates on the results sheet withdrew a day before voting to back Kamto. The Constitutional Council rejected Kamto's and 17 other petitions against the vote.
"It's a shame for Cameroon's democracy," Ndong Christopher, secretary general of Kamto's Cameroon Renaissance Movement, said after the announcement of the results. Biya abused his power to win the vote and the outcome was "totally deceptive," he said.
The U.S. State Department said there had been a number of irregularities prior to, during and after the election.
"These irregularities may not have affected the outcome but created an impression that the election was not credible or genuinely free and fair," it said in a statement.