Cameron Lobbied Lloyds to Keep Funding Greensill Deal, FT Says
(Bloomberg) -- Lloyds Banking Group Plc reversed a decision to withdraw support from a Greensill Capital project after David Cameron lobbied a member of the board earlier this year, the Financial Times said, citing people familiar with the matter.
Cameron lobbied James Lupton, a director of Lloyds who was appointed to the House of Lords in 2015 by Cameron, in January. Lloyds had previously indicated it would withdraw its funding from Greensill's supply-chain financing of NHS pharmacies. The lender reconsidered its decision and agreed to continue its involvement, the FT said. Greensill collapsed in March.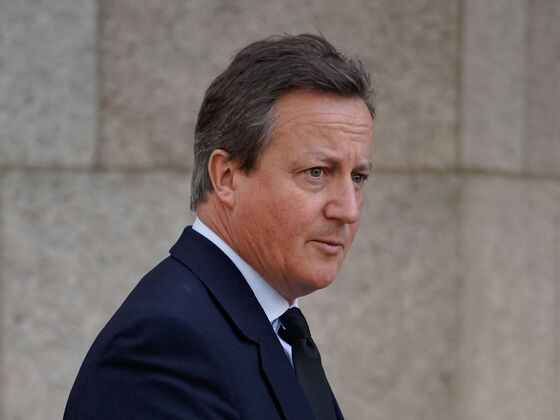 "The decision to continue this facility in January 2021 was made on the usual commercial basis and in recognition of the importance of maintaining this facility for the NHS during the height of the pandemic," a spokesperson for Lloyds said. "This program ended following the administration of Greensill, with the bank repaid in full. There were no losses to the NHS, the pharmacies supplying them or Lloyds Banking Group."
A spokesperson for Cameron didn't respond to requests for comment. A spokesman for Greensill Capital's administrators declined to comment.
Greensill's failure has prompted reviews into financial regulation and rules around lobbying. The firm's implosion in March was one of the most spectacular of recent years, sending shock waves through European finance and sparking investigations and inquiries in several countries. The company, founded by Lex Greensill, filed for insolvency after an insurance partner didn't renew coverage on loans Greensill made to key customers.
Former U.K. Prime Minister Cameron was an adviser to the firm and has faced criticism for lobbying linked to his well-paid role at the company. A government report in October said Greensill's early payment scheme to pharmacies yielded "no material benefits."