Padilla Picked to Serve as California's First Latino Senator
(Bloomberg) -- California Secretary of State Alex Padilla will replace Vice President-elect Kamala Harris in the U.S. Senate, becoming the first Latino in the western state to serve in the chamber.
Padilla, a former Los Angeles city councilman and state senator, will also be the first Southern Californian to join the Senate in almost three decades. His pick by Governor Gavin Newsom followed intense jockeying by the state's top Democrats over who would fill the role.
"Through his tenacity, integrity, smarts and grit, California is gaining a tested fighter in their corner who will be a fierce ally in D.C., lifting up our state's values and making sure we secure the critical resources to emerge stronger from this pandemic," Newsom said in a statement Tuesday.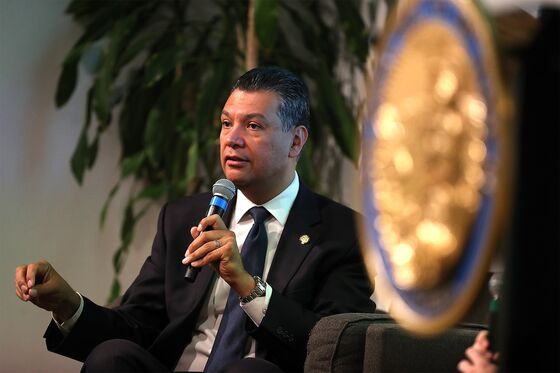 Padilla, 47, is the son of Mexican immigrants and an engineer by training who attended the Massachusetts Institute of Technology. After working as an intern for California Senator Dianne Feinstein, he moved on to a career in politics that included his tenures in the Los Angeles City Council and California state senate. He was also statewide chair of Newsom's first run for governor in 2009 before being elected as secretary of state in 2014.
Latino groups lobbied for his pick. Almost 40% of California's 39.5 million residents are Latino, yet until now, the state has never been represented in the U.S. Senate by someone of Hispanic ancestry. Latinos have become a larger and more important part of the Democratic base in California, now accounting for about 30% of all eligible voters in the state.
Padilla "is a stalwart leader and fierce advocate who has dedicated his life to public service, creating meaningful change that improved Californians' lives through effective legislation," Nathalie Rayes, chief executive officer of the Latino Victory Fund, said before he was named. "As secretary of state, he's worked tirelessly to strengthen voting rights by increasing voter registration and participation."
Still, other groups had hoped that Newsom would choose another woman to replace Harris, the only Black female U.S. senator. In picking Padilla, he passed over contenders including Karen Bass and Barbara Lee, two prominent African-American members of Congress.
"This is a real blow to the African-American community, to African-American women, to women in general," San Francisco Mayor London Breed, the first Black woman to serve in that role, said at a press briefing Tuesday. "It's an unfortunate situation as we are trying to move this country forward in making sure that Black lives truly matter and that African Americans have a seat at the table, especially African-American women."
Control of the U.S. Senate won't be clear until after the January run-off elections in Georgia. But the California seat won't tip the balance either way, because Padilla, like Harris, is a Democrat. He must run to retain the Senate seat in 2022 and filed Tuesday with the Federal Election Commission as a candidate to do so.
Feinstein, a senator for almost 30 years, lauded Padilla, saying he understands the state's challenges and brings a "critically important voice" as California's first Latino in the chamber.
Padilla will be joined in Washington by California Attorney General Xavier Becerra, who was named as President-elect Joe Biden's health and human services secretary. Newsom still has to make his pick for Becerra's replacement.