California's High-Speed Rail Cost Grows by About $2 Billion
(Bloomberg) -- The cost of California's controversial high-speed rail project grew to $79 billion, a development that renewed calls for it to end and emboldened opponents such as President Donald Trump, whose administration is already seeking to cancel and claw back federal grants.
The segment currently under construction in the state's agricultural region known as the Central Valley is now expected to cost $12.4 billion, up from $10.6 billion, according to a report released Wednesday by the High-Speed Rail Authority. The state agency attributed the higher cost to factors such as changes in the scope and planning for contingencies. Including a extension to Bakersfield and Merced, as Governor Gavin Newsom in February announced, the Central Valley segment is now projected to cost about $20.4 billion.
Initially conceived as connecting San Francisco and Los Angeles with a high-speed train that would slash travel times and transform the state's economy, the project has been beset by cost overruns and delays. Newsom, who took office this year, said in a February speech that the rail line as planned "would cost too much and take too long." He said at the time he would focus on roughly 170 miles of track in the Central Valley and preliminary work on the entire system.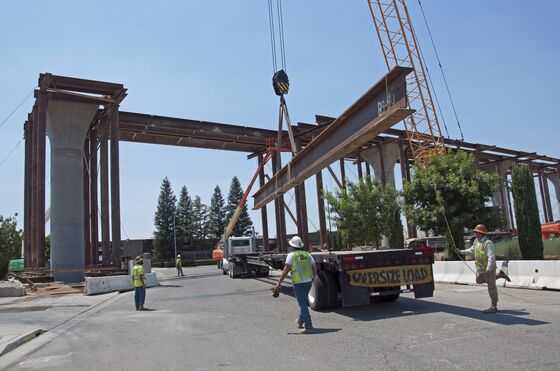 The agency's report said the Central Valley line would be completed by the end of 2028. It noted that funding for much of the rest of the work still must be determined.
"We have the funding to deliver fully electrified, high-speed trains connecting 171 miles from Merced to Fresno to Bakersfield, while we complete our important environmental work statewide and continue to make key investments in the Bay Area and Southern California," said Brian Kelly, chief executive officer of the rail agency, in an emailed statement. "This approach will help us ultimately connect a revitalized Central Valley to the Bay Area and Southern California."
Trump has blasted the project in his tweets, calling it wasteful. His administration in February announced it would cancel about $930 million in federal funds and try to recoup $2.5 billion already allocated to the project. California is assuming it will keep the funds and that it will meet the federal requirements by hitting milestones in 2022, Wednesday's report showed.
Last year, California raised the estimated cost of the bullet train to $77 billion from $64 billion, and noted it could be as much as $98 billion in a worst-case scenario. The Wednesday report is largely sticking with that range, though it hasn't updated the costs and timing of other parts of the rail beyond the Central Valley.
State Republicans, who are in the minority in the legislature, have belittled the project as a waste of taxpayer money and again urged for it to be scuttled.
"We need to either scrap this project entirely or give voters a chance to re-vote on this failed project," said Assemblyman Vince Fong, a Republican vice-chairman of the Assembly's transportation committee, in a statement Wednesday.