Buyers in Short Supply at Namibian Elephant Auction
(Bloomberg) -- Namibia sold just a third of the 170 elephants it put up for auction last December, with the animals proving too expensive for some potential buyers and others failing to meet the sale criteria.
The sale raised almost 6 million Namibian dollars ($409,000), Romeo Muyunda, an environment ministry spokesman, said in an e-mailed statement on Wednesday. The capture of the 57 elephants that were sold will begin this month and 42 of them will be exported from Namibia, while the other 15 will be relocated within the southeast African nation.
Namibia is home to about 24,000 elephants, most of which roam free. The government decided to sell some of them because the country is contending with drought and it needs to reduce their numbers in some areas where they've killed people and damaged property. It paid out about 5 million Namibian dollars in compensation to those affected last year.
"Our elephant population in Namibia is healthy but this means that they move into farming and communal areas, resulting in an increase in conflicts between humans and elephants," Muyunda said.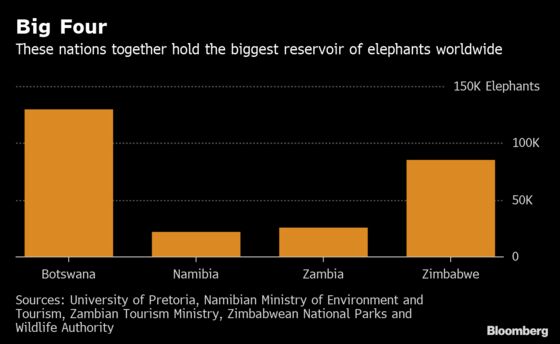 While the number of African elephants has dwindled in recent decades due to poaching in eastern and central parts of the continent, their populations are surging in southern nations, crowding out other animals and causing them to stray onto farming land.
Botswana, which has the world's biggest elephant population at 130,000, has defied an international campaign and reintroduced hunting. It's also trying to encourage some elephants to migrate to neighboring Angola. Zimbabwe, with a little less than 100,000, has regularly exported elephants to China. The two nations, along with Namibia and Zambia, oppose an international ban on ivory sales.