Joe Biden's Debate Guests Include Black Leaders: Campaign Update
(Bloomberg) -- Joe Biden's guests at Wednesday's debate include politicians who've endorsed him and two African-American leaders from Michigan.
The former vice president will host four officials who have been some of his most vocal surrogates: Louisiana Representative Cedric Richmond, Delaware Senator Chris Coons, Atlanta Mayor Keisha Lance Bottoms and Nevada State Senator Yvanna Cancela.
Signaling that he'll try to work local issues into the conversation, Biden has also invited Karen Weaver, the mayor of Flint, Michigan, and Reverend Wendell Anthony, president of the Detroit NAACP.
The guest list also includes two women from Charlotte, North Carolina, who won tickets in a campaign contest.
Democratic-Aligned Group Raises $4.8 Million
Many of the Democratic candidates have railed against big money in politics, but the biggest party-aligned super political action committee is relying on deep-pocketed donors to get ready to take on Donald Trump.
Priorities USA raised $4.8 million in the first six months of 2019, and had $5.1 million cash on hand at the end of June. It spent just $182,333, according to its latest filing with the Federal Election Commission.
Hedge fund manager S. Donald Sussman gave $2 million and philanthropist Marsha Laufer gave $1 million. Laborers International Union of North America and the political arm of the American Federation of Teachers each gave $500,000.
Two entities supporting President Donald Trump's re-election campaign, America First Action, a super political action committee, and America First Policies, a political nonprofit, announced they had raised $17.8 million.
Most Democratic presidential candidates have refused to take money from PACs or registered lobbyists. Senators Elizabeth Warren of Massachusetts and Bernie Sanders of Vermont don't hold fundraisers with wealthy contributors, relying on small-dollar donors for the bulk of their funding. -- Bill Allison
SEIU Chief Defends Medicare for All After Debate Clash
The head of the second-biggest U.S. union said she was furious that Medicare for All's critics at the Democratic debate on Tuesday seemed to pit the proposed government-run program against members' existing bargained-for plans.
"I was frankly really enraged at the notion that somehow because unions have been able to bargain better plans, that there isn't a way to figure out how to maintain those standards and benefits in a bigger plan that covers more people," Service Employees International Union President Mary Kay Henry said in an interview Wednesday.
She said her union supports "every proposal that expands access. And I think that the debate created a false choice."
Medicare For All emerged as a flashpoint of the debate, when Representative Tim Ryan and others assailed the system backed by Senators Bernie Sanders and Elizabeth Warren.
The proposal, Ryan said, would "tell those union members who gave away wages in order to get good health care that they're going to lose their health care because Washington's going to come in and tell them they got a better plan."
AFL-CIO President Richard Trumka addressed the issue Tuesday, telling reporters that "while we would like to see universal health care, we want to make sure that there is a role for employer-bargained plans in that plan."
The issue could arise when the leading candidates field questions Saturday in Las Vegas from the members of another major union, the American Federation of State, County & Municipal Employees. -- Josh Eidelson
Bernie Sanders Raises $1.1 Million After Debate
Bernie Sandersraised $1.1 million from 70,000 small-dollar donors since Tuesday's debate, his campaign said, crediting his performance for the surge.
The Vermont senator fended off attacks on his Medicare for All proposal from some of the moderate candidates in the field, including former Representative John Delaneyand Montana Governor Steve Bullock. Along with fellow progressive Elizabeth Warrenof Massachusetts, Sanders pushed for Democrats to campaign on "big ideas."
The most frequently listed employers among those giving since Tuesday are Starbucks Corp., the U.S. Postal Service, Amazon.com Inc. and Walmart Inc., the campaign said.
Through June, Sanders had raised $36.2 million, more than any of his rivals, though he raised slightly less money in the second quarter than the first. -- Bill Allison
CNN Gets Near-Record Viewership for Democratic Debate
Almost 8.7 million people watched the Democratic debate on CNN on Tuesday, making it the second most-watched such event in the network's history.
The network said it had another 2.8 million live streams on its website.
That audience fell short of the 15.3 million people who watched the first debate in Miami last month, which was broadcast by NBC on both its broadcast stations and cable MSNBC. The second night of that round, featuring the clash between Joe Biden and Kamala Harris over busing as a solution to school segregation, brought in 18.1 million viewers -- a Democratic debate record.
Some drop-off in viewer interest is common, with the first primary debates of the cycle getting the highest ratings. CNN's 2015 debate among Hillary Clinton, Bernie Sanders, Martin O'Malley, Jim Webb and Lincoln Chafee attracted 15.5 million television viewers.
Kamala Harris's Debate Guests Include 3 Black Mayors
Kamala Harris's guests for Wednesday night's debate include three black mayors: Frank Scott of Little Rock, Arkansas, Michael Tubbs of Stockton, California, and Randall Woodfin of Birmingham, Alabama.
Harris's main competition at center stage will be Joe Biden, the front-runner who dominates among African Americans, a critical demographic group for winning the Democratic presidential nomination.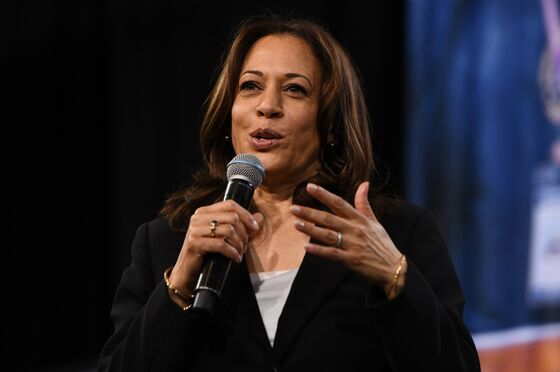 Also in the California senator's corner for the debate, along with her family, will be Louisiana State Representative Ted James, Chumash Tribe Chairman Kenneth Kahn and New Orleans City Council President Helena Moreno, according to her campaign. -- Gregory Korte
Amy Klobuchar Urges Progressive 'Reality Check'
Presidential hopeful Amy Klobuchar, one of several low-polling moderates struggling to gain traction in a crowded Democratic field, accused progressive front-runners Bernie Sanders and Elizabeth Warren of dangling unrealistic promises with their "Medicare for All" and college debt proposals.
"Those are examples of things that in my mind won't happen, so that's over promising," Klobuchar, a Minnesota senator, told CNN on Wednesday. "You want to have a reality check with what you do."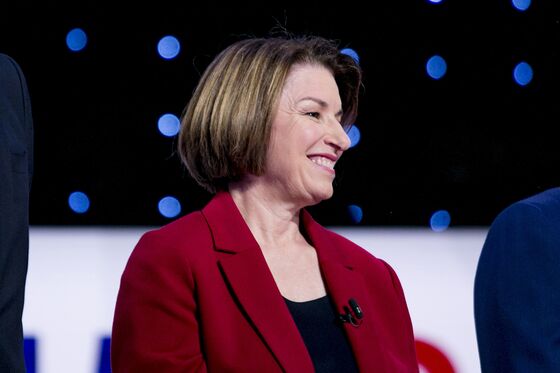 Klobuchar's comments came the morning after she, Warren, Sanders and seven other Democrats faced off in first of two nights of presidential debates in Detroit.
Warren and Sanders jointly weathered withering criticism from centrists like Klobuchar, highlighting the ideological divide that's splitting the party.
Klobuchar continued that line of attack Wednesday.
"People watching the debate are not just base Democrats but also independents and moderate Republicans seeking a change in the White House,' she said.
But the centrists may have squandered an opportunity to attract votes in Tuesday night's debate. None contrasted their views with Joe Biden or Kamala Harris, their main rivals for moderate voters and the top-billed candidates facing off Wednesday night.
Klobuchar has consistently polled in the single digits in surveys of likely Democratic primary voters. -- Terrence Dopp
Buttigieg Warns Democrats of 'Socialist' Label
Pete Buttigieg warned his fellow Democrats that Republicans would attack them as "crazy socialists" regardless of the positions they take and, right on cue, President Donald Trump's re-election campaign leveled just that attack against the candidates who appeared on the Democratic debate stage Tuesday night.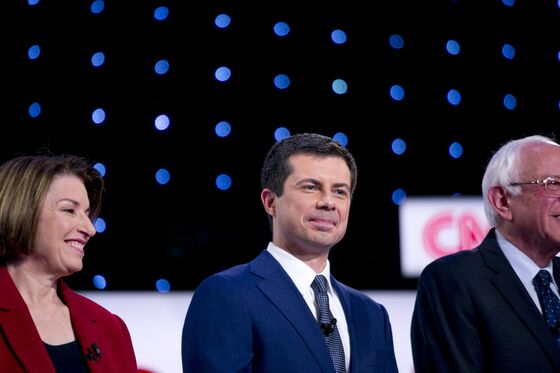 "Same radical Democrats. Same big government socialist message. Same winner of tonight's debate: President Donald Trump," Trump national press secretary Kayleigh McEnany said in a statement just after the debate ended.
Buttigieg, the mayor of South Bend, Indiana, had said earlier in the night that "is time to stop worrying about what the Republicans will say" about any Democratic policy positions.
"It's true that if we embrace a far-left agenda, they're going to say we're a bunch of crazy socialists," he said. "If we embrace a conservative agenda, you know what they're going to do? They're going to say we're a bunch of crazy socialists."
So, he said, "let's just stand up for the right policy, go out there and defend it."
Ten candidates face off for the second night of Democratic debates in Detroit.
Here are the candidates who will appear Wednesday night:
Joe Biden, former vice president
Kamala Harris, U.S. senator from California
Andrew Yang, entrepreneur
Julian Castro, former secretary of Housing and Urban Development
Cory Booker, U.S. senator from New Jersey
Tulsi Gabbard, U.S. congresswoman from Hawaii
Michael Bennet, U.S. senator from Colorado
Bill de Blasio, New York City mayor
Jay Inslee, Washington governor
Kirsten Gillibrand, U.S. senator from New York
Here's What Happened Tuesday:
The first batch of 10 candidates met for night one of the Democratic presidential debate in Detroit:
Steve Bullock, Montana governor
Pete Buttigieg, South Bend, Indiana, mayor
John Delaney, former U.S. congressman from Maryland
John Hickenlooper, former Colorado governor
Amy Klobuchar, U.S. senator from Minnesota
Beto O'Rourke, former U.S. congressman from Texas
Tim Ryan, U.S. congressman from Ohio
Bernie Sanders, U.S. senator from Vermont
Elizabeth Warren, U.S. senator from Massachusetts
Marianne Williamson, author