Buttigieg Makes Final Iowa Pitch, Leaning into Historic Campaign
(Bloomberg) -- Pete Buttigieg is urging Iowans to make history again in his final pitch to voters, framing his candidacy as an opportunity for them to push the country forward by supporting a young, untested, and openly-gay candidate.

In a final sprint asking for voters' support, Buttigieg is regaling Iowans with his personal connection to Barack Obama's 2008 caucus victory and reminding them that the state was first in the Midwest to legalize same-sex marriage in 2009.

"I'm asking you to make history with me one more time," Buttigieg said in Sioux City on Friday morning, as he recounted his time as a volunteer for Obama's Iowa campaign in the final days.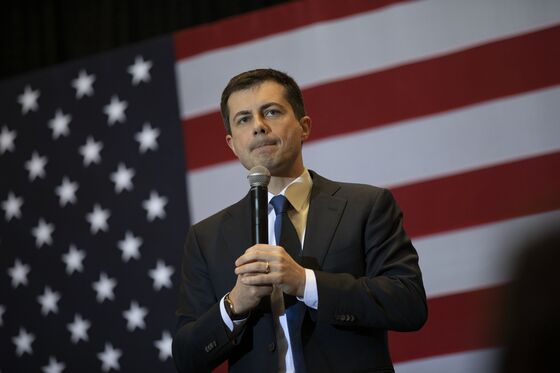 He pointed to his wedding ring and thanked Iowans for being one of the first states that made marriages like his possible.

Buttigieg has staked his candidacy on a strong performance in Iowa, and a finish below third place could spell the end of his campaign. So, on Friday, he jetted around the state from the northwest to the eastern edge and leaned into the historic nature of his candidacy.
"Everybody's going to remember what Iowa does in just three days and I hoped that I've persuaded you," Buttigieg said at a rally in Davenport, perched on the Mississippi River across from Illinois.

Buttigieg, who turned 38 in January, rose from an unknown mayor of the fourth largest city in Indiana to a serious contender to win the Iowa caucuses. Centering his campaign on an Obama-like message of hope, Buttigieg has presented himself as the candidate best equipped to usher in a new generation of leadership.

He's also used that message to draw a stark contrast with the three septuagenarians with whom he's battling for the top spot in Iowa. The RealClearPolitics polling average in Iowa shows Bernie Sanders maintaining a 3.6 percentage point lead over Joe Biden, who is followed by Buttigieg and Elizabeth Warren.
On Thursday, Buttigieg started to take direct shots at Biden and Sanders, dispensing with the subtly that's characterized his generational pitch since he launched an exploratory committee. The sharper criticism is part of his larger electability argument that Democrats will not win the "same Washington playbook."
He kept up the rhetoric on Friday: Biden, he said, is trying to play it safe and "recycling the same arguments" -- a tactic, he says, that won't beat President Donald Trump. Sanders, he argued, is too divisive by forcing a choice "between revolution or status quo."
"It's no longer just each of us telling our own story but also explaining why on the questions that matter most, especially how we're going to win and govern well, why this campaign will be better than the alternatives," Buttigieg told reporters in Council Bluffs in far western Iowa.

Unlike Biden or Sanders, who have strong support nationally, Buttigieg sits in single digits in most national polls and has little support from non-white voters, a crucial part of the Democratic electorate.
Buttigieg and his campaign have long argued that a top finish in Iowa would catapult him in the polls nationally and among voters of color. Thus, a disappointing finish on Monday might doom the campaign.

As a result, Buttigieg has kept up a frenetic campaign schedule over the past week, capitalizing on the absence of the senators like Sanders and Warren who were in Washington serving as jurors in the Trump impeachment trial. Since Monday, he's held 20 events.
Cindy Teal, 54, who committed to Buttigieg months ago, said Friday was the first time she'd seen him in person.

"I think he's spot on," the Clinton, Iowa, resident said. "I loved everything he said."

But in a Democratic field that at one point stretched to more than two dozen, voters are still whittling down their favorites. With the caususes now more hours than days away, a significant portion of the electorate remains undecided or not firmly committed. A recent Monmouth poll of likely Iowa caucus-goers found nearly half of them are open to changing their mind.
Kathy Youmans Driscoll, 70, attended Buttigieg's event in Clinton on Friday evening, clutching a copy of the former mayor's book, "Shortest Way Home." But the retired elementary school teacher is still undecided. She's torn between Buttigieg, Senator Amy Klobuchar of neighboring Minnesota, and Warren.

"We've got so many good candidates," she said. "I've been studying all their platforms."

Youmans Driscoll left Buttigieg's event excited about his message, but he didn't fully seal the deal. She planned to attend a Klobuchar event on Saturday before deciding.

"I'll know before I walk in to caucus," she said. "Maybe I'll pray about it in church Sunday."
(Disclaimer: Michael Bloomberg is seeking the Democratic presidential nomination. He is the founder and majority owner of Bloomberg LP, the parent company of Bloomberg News).