Businesses Prep for Elections by Backing Incumbent Republicans
(Bloomberg) -- Businesses are gearing up for congressional elections by betting on incumbents -- most often Republicans.
Business political action committees -- those formed by corporations and trade associations -- directed 94 percent of the $310.9 million they gave to candidates through Oct. 17 to those running for re-election, according to the Center for Responsive Politics, a nonpartisan research group. Business PACs largely ignored challengers and those running for open seats.
GOP lawmakers were the biggest beneficiaries -- despite many business' groups opposing some key policies of President Donald Trump, including his approach to immigration and trade. Many GOP lawmakers have either supported Trump's policies or haven't pursued legislation to undo them.
The business PACs favored Republican incumbents with $180.8 million in contributions compared with $111.9 million for Democratic incumbents. Republican candidates running against incumbents or for open seats got $13.1 million, while Democrats received $4.4 million.
About 124 Democratic challengers, 120 running for the House and 4 for the Senate, have taken a pledge to refuse corporate PAC money, according to End Citizens United, a political organization that sponsored the pledge.
Polls, fundraising and independent analysts suggest that Democrats are poised to make significant gains on Nov. 6 that could give them a majority in the House. Republicans retain an advantage in the Senate as Democrats have to defend 26 of the 35 seats on the ballot in 2018, including 10 in states where Trump won in 2016.
"Corporate PACs are typically giving contributions not to sway the outcome of an election but to maintain access to people they want to lobby," said Michael Malbin, president of the Campaign Finance Institute, a nonpartisan group that analyzes political donations.
Some business groups spent more directly to influence the outcome of elections. The U.S. Chamber of Commerce disclosed issue-ad buys totaling $3.75 million in closely contested Senate races in Arizona, Indiana, Montana and Tennessee. Some spots focus on the 2017 Republican tax cut and are critical of votes against the measure by Democratic Senators Jon Tester of Montana and Joe Donnelly of Indiana.
Scott Reed, senior political strategist for the Chamber, said that Trump's penchant for controversy has made it hard for the group to spend money on the midterm elections.
"Rolling a bunch of ads out when there's major national news that overshadows it is a waste of money," Reed said. "So we've tried to be a bit strategic about it."
One measure of the business community's tilt toward incumbents is the money poured into leadership PACs, vehicles set up by members to raise money for their colleagues.
There are 503 leadership PACs operated by 488 sitting lawmakers -- some members have two. They raised more than $150 million this cycle, according to a study by Issue One, a group that favors stricter limits on money in politics. More than half of the congressional leadership PACs raised two-thirds or more of their total receipts from other PACs, giving interests with business before Congress an additional means of giving to a lawmaker.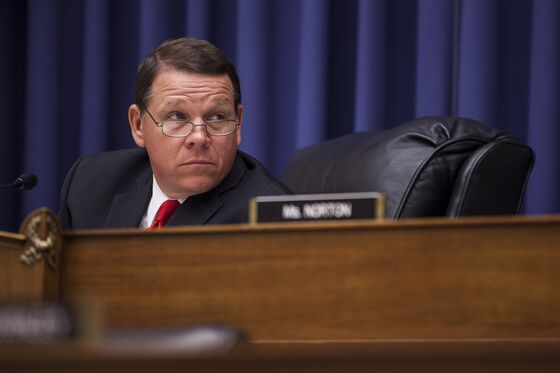 Missouri Republican Sam Graves, who chairs the House Highway and Transit Subcommittee, raised $215,500 through his leadership PAC, with much of that coming from donors with business before his committee. They included CSX Corp. and Norfolk Southern Corp., whose PACs each gave the maximum $10,000 contribution. Their PACs also gave the maximum $10,000 contribution to Graves's campaign committee.
"Leadership PACs are one of the pockets in a politician's wardrobe where the donor class can stuff money," said Meredith McGehee, executive director of Issue One. "One of the first things Washington interests learn is how to ingratiate themselves with politicians by contributing to both campaign committees and leadership PACs."
Graves's office did not respond to a request for comment.
Representative David Scott of Georgia, the top Democrat on the House Agriculture Commodity Exchange, Energy and Credit Subcommittee, raised $113,500 for his leadership PAC, called Brave PAC, through the end of September. Regions Financial Corp., which gave his campaign the maximum $10,000, gave $7,500 to Brave PAC. SunTrust Banks Inc. gave $5,000 to Brave PAC in addition to the $10,000 it gave to his campaign committee.
A spokesman for Scott declined to comment.