Pop Star's Win in Bulgaria Vote Doesn't Fix Political Crisis
(Bloomberg) -- A pop star's party won Bulgaria's do-over elections by a razor-thin margin, ending more than a decade of dominance under former Prime Minister Boyko Borissov but falling short of the majority needed to end a political crisis.
Stanislav Trifonov, who hosts Bulgaria's most popular late-night show and fills stadiums from London to Los Angeles performing the Balkan analog of gangster rap, tapped into widespread voter discontent over the European Union's lowest living standards and worst corruption. The nation is also struggling to catch up vaccinating against Covid-19, where it ranks last in the bloc.
Trifonov's There Is Such a People Party, known as ITN, won 23.9% with 99% of votes counted, the electoral commission said on Monday. Borissov's Gerb won 23.7% of the vote, followed by the Socialists with 13.5% and the anti-graft Democratic Bulgaria with 12.6%.
Also known by his stage-name "Slavi," Trifonov didn't run in the election and, eschewing the chance to become prime minister, named Nikolay Vassilev, a former economy minister and executive at UBS and Lazard Capital Markets, as his candidate. The entertainer said he'd push to form a single-party, minority government.
"The so-called protest parties don't have enough support for a majority," Trifonov said Monday on his 7/8 television channel. "In that case ITN won't make coalition with any parties and will take the responsibility on its own."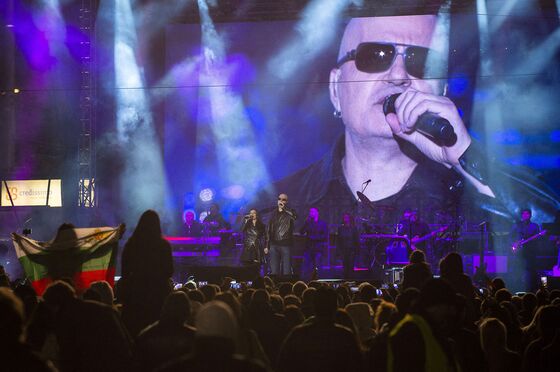 President Rumen Radev will give the winner of the election the first chance to lead coalition talks. If it fails, the second-placed party gets a turn. If that doesn't work, a third will be chosen by the president for a last try before new elections are called.
In the initial ballot held in April, a better-than-expected showing from ITN blocked Borissov from a fourth term, as all other political parties refused to work with Gerb in government. With voters flocking to new protest parties calling to sweep out the nation's scandal-prone elite -- which boosted ITN in the do-over -- no one managed to muster majority support for a cabinet, which triggered a re-run of the vote.
"It's our time to be in the opposition," Borissov told journalists. He said he may propose a cabinet and prime minister but he doesn't see a chance of it getting approved.
Under Borissov, who ruled Bulgaria almost continually since first taking power in 2009, the country of 7 million remained in last place in the EU in Transparency International's Corruption Perceptions Index. While living standards have improved they remain at about half of the bloc's average. Brussels has also criticized Bulgaria for failing to uphold the rule of law and has kept the country out of the passport-free travel Schengen zone.
Trifonov has been railing against inequality and corruption even before the nation joined the EU in 2007. He has pledged to fight a "mafia model" he says gives oligarchs with ties to organized crime sway over politics and overhaul the electoral and justice systems.
Trifonov says he favors deepening ties with the EU, though like Borissov, he has voiced resistance to the bloc's efforts to open membership talks with neighboring North Macedonia, citing long-standing historical disputes.
Borissov also pushed for Bulgaria to adopt the euro by 2024. Trifonov listed joining the euro area as a priority on Monday, although Toshko Yordanov, deputy chairman of There Is Such a People, warned before the elections against any "premature" move, saying the currency is for wealthier states.
Most parties have suggested they may support a minority government if certain of their demands are met, giving Trifonov a chance to find backing for a cabinet.