Bulgaria's Three-Time Premier Won't Be Leading Next Cabinet
(Bloomberg) -- Bulgaria's three-time premier, Boyko Borissov, said he'll step aside and nominate his former foreign minister to become prime minister and attempt to form a new government after this month's elections.
Borissov, one of Europe's longest-serving leaders after first taking office in 2009, won the ballot but new parties that pledged to shun him over his weak fight against corruption are blocking him from a fourth term. He said Wednesday that he'll propose Daniel Mitov, his foreign minister from 2014 to 2017, to lead the next government.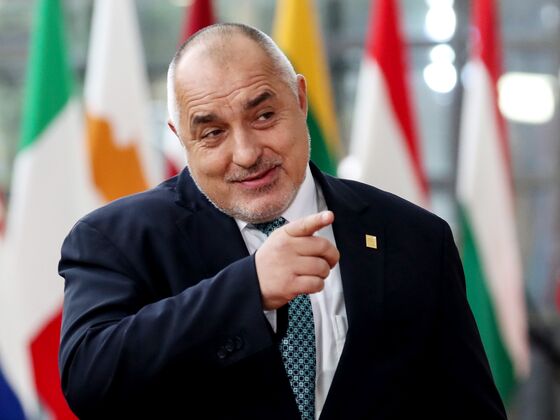 "I want our Euro-Atlantic orientation to be seen clearly," Borissov said in a live stream on Facebook.
Mitov, 43, a political scientist, was a program manager at the U.S.'s National Democratic Institute and its permanent representative in Brussels.
Bulgaria, a European Union and NATO member, has repeatedly drawn criticism from both the EU and the U.S. for its failure to fight high-level graft.
Newly elected lawmakers will convene Thursday for the first time so that consultations on the new cabinet may start.
President Rumen Radev should first task Borissov's party, GERB, to attempt to form a government. If that fails, the second-biggest party -- the populist There Is Such a People of talk show host and singer Stanislav Trifonov, will get a stab.
The political uncertainty comes at a time when the EU's poorest member is starting to recover from the coronavirus pandemic and prepares to distribute billions of euros in EU funding to help overcome the crisis. Bulgaria is also seeking to switch to the euro in 2024.