Bulgaria Eyes F-16s as NATO's Eastern States Ramp Up Spending
(Bloomberg) -- Bulgaria's government agreed to start talks with the U.S. to buy eight new fighter jets, becoming the latest Eastern European NATO member to meet a call by U.S. President Donald Trump to ramp up military spending.
In what could be the Balkan country's biggest military deal since the Cold War, Prime Minister Boyko Borissov's cabinet will negotiate to buy new Lockheed Martin F-16 Block 70 fighters worth an estimated 1.8 billion-lev ($1 billion), Defense Minister Krasimir Karakachanov said on Wednesday. In pursuing the deal, Bulgaria joins nations stretching along the North Atlantic Treaty Organization's eastern border who are buying everything from ships and personnel carriers to aircraft as they spend more on defense.
"We'll start talks with country offering the full package of needed equipment and armaments," Karakachanov told reporters in Sofia. The U.S. offer exceeds the budget limit and the project's cost may change in the course of negotiations and following parliament's approval, he said.
Eastern European countries are stepping up military equipment purchases amid efforts by the European Union to improve the bloc's defense system after Russia's interference in Ukraine and Trump's calls on NATO members to meet the alliance's spending guidelines. Slovakia is looking to revamp both its ground forces and its air force, Romania plans to add more F-16 jets to its squadron, while Croatia's deal to buy used F-16 fighter jets got scrapped amid a U.S.-Israeli dispute.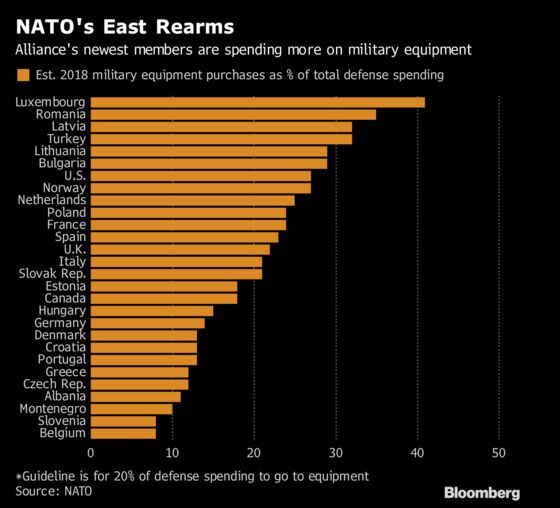 Bulgaria also considered offers from Italy for Eurofighter Typhoons and from Sweden for Saab AB Gripen C/D jets among others as it seeks to replace its outdated Soviet fleet.
The cabinet's choice pitted Bulgarian President Rumen Radev against Borissov. Radev, a former Air Force chief supported by the opposition Socialists, said in a statement "the tender was fouled up" and accused the government of picking the winner in contradiction with rules approved by it and parliament. The cabinet has also agreed "to overpay a huge amount," according to Radev. The U.S. is working on fitting Bulgaria's budget and operational needs, Secretary of State Mike Pompeo said in a statement Dec. 19.
Sweden, which had won a previous tender held by an interim cabinet in 2016 that was canceled by Borissov, met Bulgaria's choice "with great disappointment and concern," the government in Stockholm said in an emailed statement. Sweden's offer this time included 10 Gripen fighters within Bulgaria's budget limit with a 24-month delivery.