Buhari's Party Wins Nigerian State Vote Marred by Bribery
(Bloomberg) -- Nigeria's ruling party won a gubernatorial vote in a key swing state, with reports of widespread bribery signaling the probable shape of the battle in February's general elections.
The Ekiti win is a boost for the re-election chances of President Muhammadu Buhari, 75. It shows his All Progressives Congress retains the muscle in the southwest region that helped him in 2015 to become the first opposition candidate to win power in a democratic vote in Africa's most populous nation. It also indicates that Nigeria's money-fueled politics is thriving.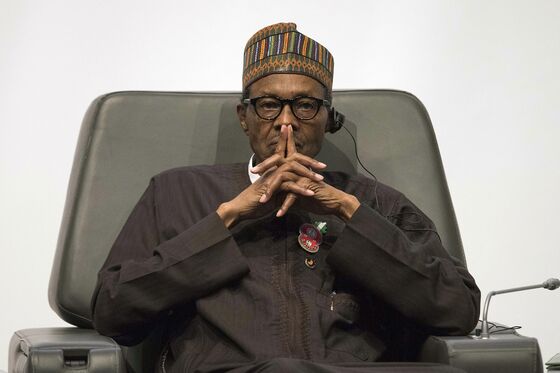 "The APC needed to win to set the tone in a key region ahead of the 2019 general election and it has won," Antony Goldman, West Africa analyst at London-based PM Consulting, said in emailed comments. "But the campaign shows how much of a challenge it is to shift Nigeria's political culture."
The APC's candidate, former Minister of Solid Minerals Development, Kayode Fayemi, on July 14 defeated the aspirant of the main opposition People's Democratic Party, which had controlled the state for the past four years.
Vote buying was widespread and conducted with "impunity" in many cases, according to the Nigerian Civil Society Situation Room group, which monitored the election, with some reports putting the price of a ballot between 3,000 naira ($8.30) and 5,000 naira.
"The major political parties were very much culpable in this breach," Clement Nwankwo, chairman of the group, said in a statement. "This trend portends grave danger to Nigeria's democracy, as it undermines the responsibility of citizens to freely choose their leaders and threatens the essence of democracy."
APC spokesman Bolaji Abdullahi didn't immediately answer calls or respond to text messages seeking comment.
PDP spokesman Kola Ologbondiyan said his party agents didn't bribe voters. That party has said it will challenge the election outcome in court.
"Any money we spent before the election was going into the campaign," he said by phone Tuesday. "We asked our party agents not to take any money with them to the polling centers. Instead, we have evidence that the APC spent money heavily on the day of the election to buy votes."
Malte Liewerscheidt, vice president of London-based risk advisory group, Teneo Intelligence, said both parties engaged in bribery. The APC used "large-scale vote buying and the use of security forces" to protect buying agents, he said in an emailed note on Monday.
"The recipe used by the APC to win in Ekiti might well serve as a blueprint for the upcoming nationwide ballot, with potentially severe implications for public finances," Liewerscheidt said.