Bondholders Get More Time to Weigh Buenos Aires Province's Delay
(Bloomberg) -- The Province of Buenos Aires extended today's deadline for creditors to decide on its request to delay a key bond payment.
Bondholders now have until Jan. 31 at 5 p.m. CET (11 a.m. ET) to accept the province's plan to push back a $250 million principal payment, according to a statement. That is within the 10-day grace period the province has from the date the payment is due on Jan. 26 to avoid default.
Buenos Aires Governor Axel Kicillof surprised investors Jan. 14 by proposing the delay, which doesn't include a sweetener, after the federal government said it wouldn't offer the province a bailout. The province is not planning to change the terms of the proposal beyond extending the deadline for creditors, an official from the province said.
The province's Economy Minister Pablo Lopez said in an emailed statement that talks with investors would continue, and that the proposal has "significant" support. Holders of at least 75% of the bond's principal must back the plan for it to win approval.
Bonds in the province tumbled Wednesday. The notes due 2021 dropped 4 cents to as low as 52.9 cents on the dollar. Sovereign debt followed suit, with the century bond due 2117 slipping 0.7 cent to 45 cents.
A creditor group representing investors yesterday abstained from making a recommendation on a provincial plan to push the payment to May 1. They did note however that the plan was made in "a truncated time frame, without the benefit of a formal bondholder identification process, and in the absence of a comprehensive plan for the Province's debt," according to a statement sent after hours Tuesday.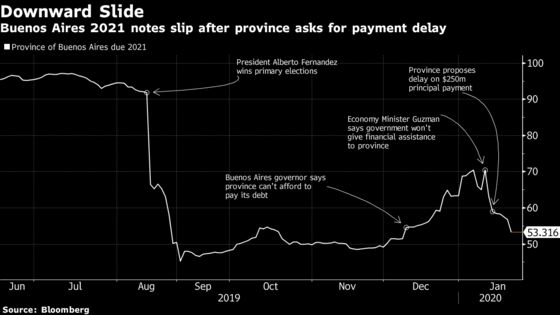 Kicillof is strongly aligned with the ruling administration and his treatment of creditors is seen as indicative of what investors can expect from President Alberto Fernandez as he seeks debt relief for the country.
The province of Buenos Aires has said it was asking for the time line extension so creditors could participate in wider talks led by the national government.
"In such a short time frame, with a bond scattered among many investors, and in the absence of a comprehensive plan, it is challenging to obtain the necessary consents," Marcelo Delmar, one of the financial advisers for the bondholder group, said by phone.