Budget Ambush May Bring More Uncertainty for Tax-Wild Romania
(Bloomberg) -- The bumpy road for Romanian investors, who've already been blindsided by an overnight "greed-tax," may not be over soon, as the government still needs to patch up this year's budget.
Opposition parties ambushed policy makers' plan to narrow the budget gap last week, when they pushed a significant increase in children allowances through parliament. The measure forced the government to raise the forecast deficit to 2.76 percent -- close to the 3 percent ceiling that can trigger penalties from the European Union.
While the initial target of 2.55 percent of gross domestic product offered a cushion against potential surprises, the new one, along with optimistic economic growth estimates, may force the government to squeeze more money from the private sector or slash spending later this year.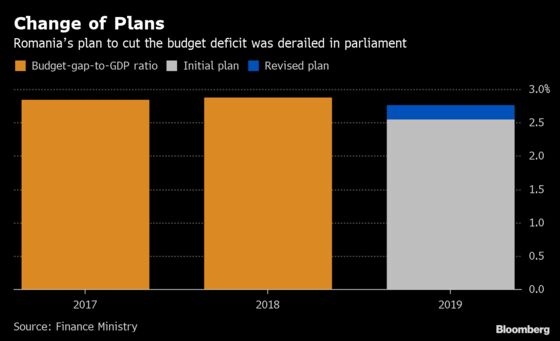 "We expect the gap to amount to more than 3 percent of GDP in 2019, unless the government takes additional measures against this,"said Dan Bucsa, a London-based economist at UniCredit Bank AG.
Romania doesn't have a good reputation in terms of fiscal predictability, and the swift tax changes for energy companies, banks and other sectors announced overnight in late December have already crushed the markets and spooked investors. The government is now trying to fix some of the problems by discussing potential changes to the controversial "greed tax" with the central bank and energy companies.
A meeting on Monday between the finance ministry and the central bank may shed some light on potential changes for the banking tax. The uncertainty is taking a toll on Romanian assets and has already prompted OMV Petrom SA and Exxon Mobil Corp to put on hold a multi-billion dollar gas project in the Black Sea.
"The current environment for leu local debt remains surrounded by ongoing fiscal policy risk, which is the reason for our ongoing cautious view," Raiffeisen Bank International AG analyst Stephan Imre said in a note.