Brussels Edition: Trouble in Turkey
(Bloomberg) -- Welcome to the Brussels Edition, Bloomberg's daily briefing on what matters most in the heart of the European Union.
Ankara's proxy conflict with Russia in Syria and Libya is spiraling out of control, after a Moscow-backed attack on Turkish positions in Idlib killed at least 33 Turkish soldiers. President Recep Tayyip Erdogan is appealing for NATO and EU support, but there's little appetite to engage in a hot conflict — not least after Erdogan spent years courting Vladimir Putin and confronting EU members over Mediterranean gas reserves. Such unwillingness could come with a cost though. A new wave of people displaced by war in Syria may flee to Europe without being held back by Turkey. Images of Syrian refugees trying to cross to Greece without obstruction aired on Turkish TV this morning — a nightmare scenario for Brussels and many European capitals, whose foreign policy is largely shaped by fear of migration.
Cyber Sanctions | EU diplomats will have their first informal discussion today about sanctioning a Russian and a Chinese entity, as well as several individuals, in retaliation for cyber attacks. The move could help quell some U.S. concerns about the EU being soft on China, after the bloc resisted pressure to ban Huawei from 5G networks.
Slovak Poll | As Slovakia heads into its most unpredictable election in recent memory this weekend, the overarching theme is all too familiar in ex-communist Europe: corruption. With the murder of a journalist two years ago weighing on the ruling party and uniting the opposition, Slovakia risks succumbing to forces disrupting the continent's politics.
Be Patient | ECB Executive Board member Isabel Schnabel is urging greater patience in bringing price growth back on track. Her remarks in London come as the Governing Council is preparing for its next policy gathering, at which inflation and its measurement will be a key focus.
China Chill | Almost a year after Italy broke with its U.S. and European partners to sign up to China's Belt and Road initiative, relations between Rome and Beijing risk deteriorating rather than getting closer. The anticipated economic boost for Italy has yet to materialize, and the cooling interest in integration runs deeper than worries about the coronavirus.
Brexit Price | Britain's hard-line approach to trade negotiations with the EU carries a big risk. Exiting the EU without a free trade agreement would leave the U.K.'s GDP 3% smaller by 2030 compared with a comprehensive trade deal, equivalent to a loss of about 80 billion pounds a year in today's prices, according to Bloomberg Economics calculations.
Tech Tax | The Czech Republic may consider reducing a planned digital tax on technology companies that is currently expected to be the highest in Europe. A series of countries are looking to implement similar levy amid slow progress to agree to a broader initiative as the U.S. threatens to retaliate.
Friends Again | Emmanuel Macron and Giuseppe Conte staged a show of friendship with a summit designed to turn the page on a postwar low in Franco-Italian relations. The two leaders sought to boost cooperation in fields ranging from reviewing EU governance to naval and technology sectors in an effort to ensure warmer ties after Macron recalled France's ambassador to Rome last year. 
Virus Latest | The spread of coronavirus is wreaking havoc in Europe, which is struggling with how to react. Macron and Conte pledged to join efforts to contain the disease, while Greece and Germany are beginning tighter checks on their borders. ECB president Christine Lagarde, meanwhile, told the Financial Times that the situation isn't dire enough yet to warrant a monetary policy response.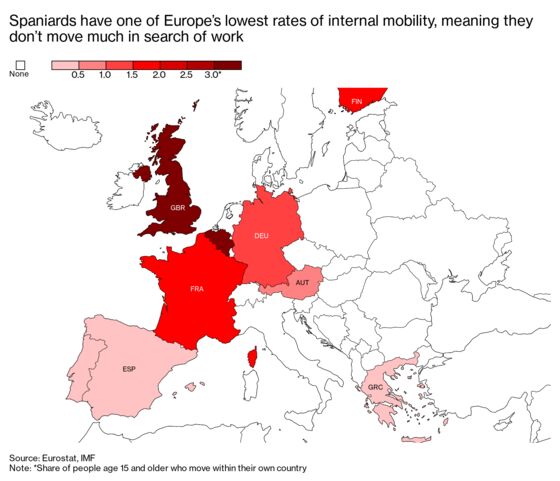 Spain's vicious start-and-stop cycle of bad jobs has become one of Europe's most chronic economic dilemmas, a problem unresolved by its post-crisis boom. The situation remains critical despite years of robust economic expansion and successive interest-rate cuts that have propped up the broader European economy.
EU economy chief Paolo Gentiloni delivers an opening speech at a European Fiscal Board Conference in Brussels