Brussels Edition: Tria Time
(Bloomberg) -- Welcome to the Brussels Edition, Bloomberg's daily briefing on what matters most in the heart of the European Union.
Euro area finance ministers are supposed to be talking about the bloc's bailout fund today, but the bigger and more immediate issue at hand is the punchy Italian deficit target that roiled financial markets on Friday. Italian Finance Minister Giovanni Tria, denying a report he was going to quit after being overruled, may make another attempt to reassure European peers there's no crisis.
Italian Forecasts | Tria divulged further details in a weekend interview, saying the higher-than-expected 2019 deficit target of 2.4 percent isn't a challenge to EU limits. He told Il Sole 24 Ore the government is aiming for a debt reduction of 1 percentage point per year over the next three years, while targeting growth of 1.6 percent next year and 1.7 percent in 2020.
Bailout Future | The future of the bailout fund, the Luxembourg-based European Stability Mechanism, is the official topic for finance ministers. While all euro members agree that the ESM should be strengthened and given more powers in the design and oversight of future rescues, some key differences persist. Chief among them: the criteria used to determine whether a country is eligible for a precautionary credit line.
Helsinki Home | The number of banks deemed too big to fail in the euro zone will today grow to eight from seven. The new arrival is Nordea Bank Abp, which is moving its headquarters to Helsinki from Stockholm. The bank, whose $670 billion in assets are more than twice Finland's gross domestic product, has made clear its move was driven by regulatory considerations and a wish to be inside the European banking union.
Greek Numbers | Greece's draft budget, expected today, is the first big test of how much fiscal sovereignty the country has regained since exiting its aid program in August. Prime Minister Alexis Tsipras has pitched rescinding unpopular pension cuts slated for January, while both he and the opposition leader are promising lower taxes. Elections may be just months away.
Tory Tussles | Theresa May is battling to assert her authority as U.K. prime minister, after a disastrous start to her party's annual conference threatened to explode into a full-blown leadership crisis. Before the event had even begun, May struggled to contain a row over a massive data breach and to fend off a brazen challenge over Brexit from her arch rival, Boris Johnson. ( Read the story behind his resignation.)
Referendum Result | The Republic of Macedonia's leader threatened to call snap elections next month if he fails to win support to change his country's name, after voters backed him in a referendum clouded by turnout of just 37 percent. Prime Minister Zoran Zaev is trying to settle a 27-year-old row with Greece and open a path toward western integration.
Emergency Warning | The World Trade Organization, International Monetary Fund and World Bank yesterday issued an emergency call to reform the multilateral trading system as the U.S. retreats from prior agreements. The Washington-based groups outlined specific initiatives aimed at modernizing WTO rules. The recommendations echo reform proposals offered this month by the EU and Canada.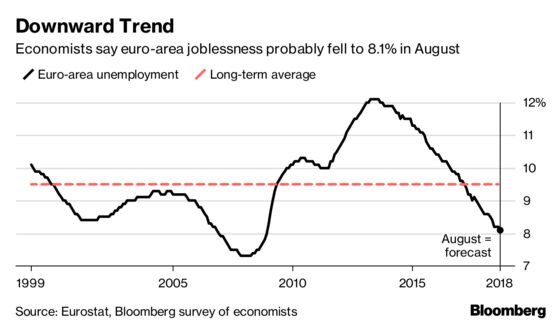 Despite all the tension in Europe these days, jobless figures are heading in the right direction. Eurostat will release its August unemployment reading for the euro area today, and joblessness in the currency bloc probably fell to 8.1 percent, according to a Bloomberg survey of economists.
11 a.m. Eurostat to release August unemployment reading for the euro area 
3 p.m. Euro-area finance ministers will meet in Luxembourg to discuss the future role of the bloc's bailout fund 
7:30 p.m. European Parliament's ECON committee discusses reform of EU financial supervisors in Strasbourg 
EU Commission President Jean-Claude Juncker participates in Citizens' Dialogue together with Baden-Württemberg's Minister President Winfried Kretschmann in Freiburg, Germany
EU's competition chief Margrethe Vestager in Denmark gives a keynote speech and meets Bente Sorgenfrey, leader of the Danish FTF confederation of professionals 
Like the Brussels Edition?