Brussels Edition: The Politics of Prosecution
(Bloomberg) -- Welcome to the Brussels Edition, Bloomberg's daily briefing on what matters most in the heart of the European Union.
If the EU wanted to send a strong message to the Romanian government over its erosion of democracy, Laura Codruta Kovesi, the country's former anti-corruption crusader, would be a shoo-in for the job of the bloc's first chief prosecutor. Instead Kovesi,  who was fired by Romania's ruling Social Democrats after she put dozens of corrupt politicians behind bars, will be fighting to keep her bid alive at a European Parliament hearing today in Brussels. EU governments last week decided to avoid a confrontation with Bucharest by supporting a rival French candidate for the job.
Brexit U-Turns | U.K. Prime Minister Theresa May is considering a plan to delay Brexit and stop a no-deal exit next month, according to people familiar with the situation, hours after she rejected such a prospect. May is set to allow her Cabinet to discuss extending the deadline beyond March 29 at a crunch meeting today. Meanwhile, opposition leader Jeremy Corbyn finally came out in favor of a second referendum.
Lane Interview | Philip Lane, picked by finance ministers to be the ECB's next chief economist, should receive a warm welcome at his hearing in the European Parliament today. ECB watchers will listen for clues on how the institution might react to the current slowdown after a number of policymakers have recently begun to lay the groundwork for a response.
Latvia Ruling | Did Latvia breach EU law by suspending central bank governor and ECB Governing Council member Ilmars Rimsevics on charges of bribery? The EU's top court will rule on that today in a decision that could put the ECB on a collision course with Latvia as the Frankfurt-based institution moves to assert its independence.
Cypriot Reunification | Cyprus President Nicos Anastasiades will meet Turkish-Cypriot leader Mustafa Akıncı today, to explore possible common ground to resume reunification talks. The last round of discussions, at the Swiss resort of Crans Montana, collapsed in July 2017, and even optimists have all but given up hope that Nicosia will cease to be Europe's last divided capital anytime soon.
Benchmark Break | The financial industry will get two more years to overhaul critical financial benchmarks such as Euribor and Eonia, EU member states and the parliament decided yesterday. Also, providers of benchmarks produced outside the bloc have until the end of 2021 to comply with new EU rules meant to prevent manipulation.
Five Star Loss | Italy's governing Five Star Movement is emerging as the big loser in a regional election for the second time this month, pushing the country's populist coalition closer to the brink. Though tiny Sardinia has limited political weight, the result indicates there may not be a single bloc capable of reaching an absolute majority nationwide. 
Derivatives Trading | The U.K. and U.S. sought to allay fears of disruption in the multitrillion-dollar derivatives market, vowing to put in place emergency policies to ensure trading continues uninterrupted in the event of a no-deal Brexit. Meanwhile, the financial industry is asking Brussels for additional help to allow EU money managers to trade blue-chip stocks on London-based exchanges.
When in Rome | Hopes of Europe dominating this year's Oscars have proved to be as misplaced as Americans trying to cook better than we do this side of the Atlantic. Nowhere is better than Rome for its beloved, soul-satisfying pastas. We've asked the world's foremost Italian experts, chefs and restauranteurs in Italy and abroad for their picks, and we have 18 recommendations for you. 
Smart-Casual | And now for something really useful: A Danish startup uses molecular technology to make stain- and odor-repellent business and casual shirts. Those who have tested them say you can wear them for a week, sweat and spill red wine on them, and they'll still look fresh. Because they don't need to be washed as often as regular cotton shirts, they're expected to last longer and they are therefore friendlier to our battered planet.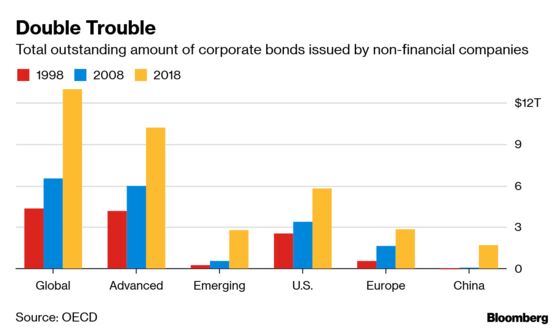 The amount of corporate bonds in circulation has doubled over the last decade to $13 trillion after companies binged on debt, causing "elevated risks and vulnerabilities," the OECD said. In the next three years, non-financial companies will have to pay back or refinance about $4 trillion of corporate bonds — a mountain of repayments that may coincide with a slowing global economy, changes in monetary policy and record levels of sovereign debt borrowing. The combination of those factors could lead to a vicious circle for the global economy, according to the OECD.
9:45 a.m. EU Parliament's ECON Committee holds public hearings with an Italian candidate for the Single Resolution Board, Philip Lane as candidate for ECB chief economist (10:30 a.m.) and the designated chairman of the EBA, Jose Manuel Campa (11:30 a.m.). At 12:30 p.m., they will vote on the nominations 
EU lower court rules in state aid cases concerning FC Barcelona and Athletic Club against 2016 European Commission decision finding that some soccer clubs benefited from illegal state aid from Spain
3:30 p.m. Shortlisted candidates for the first ever post of EU Chief Prosecutor for crimes against the EU budget and VAT fraud will be quizzed in a public hearing by the Civil Liberties and Budgetary Control committees of the European Parliament. They are Jean-François Bohnert from France, Laura Codruţa Kovesi from Romania and Andres Ritter from Germany
The Employment and Social Affairs Committee of the European Parliament will vote on a series of contingency measures to safeguard the social security entitlements for EU and U.K citizens in case of a no-deal Brexit
12:45 p.m. CEPS event on the challenges of lawful processing of data by security and intelligence agencies, in Brussels
Fintech conference with EU's Valdis Dombrovskis, ECB's Yves Mersch, AMF's Robert Ophele, ESMA's Steven Maijoor, CFTC's Chris Giancarlo and more
Mark Carney will testify in the British Parliament on the Bank of England's latest forecasts. With a recent policy maker comment suggesting a rate cut could be more likely than an increase in a disorderly Brexit scenario, this occasion may provide an opportunity for the Governor to update his own view
European Central Bank Executive Board member Benoit Coeure at conference sponsored by the ECB, Bundesbank and Federal Reserve Bank of Chicago in Frankfurt
Cyprus President Nicos Anastasiades will meet with the leader of the Turkish Cypriot community, Mustafa Akınci, at the house of the Special Representative of the UN Secretary-General in Cyprus, Elizabeth Spehar, to discuss reunification