Brussels Edition: The Other Plan B
(Bloomberg) -- Welcome to the Brussels Edition, Bloomberg's daily briefing on what matters most in the heart of the European Union.
Facing the reality that the U.K. may not get its act together in time for the March 29 divorce, EU ambassadors in Brussels will take another stab today at deciding how to iron out no-deal contingency plans. It remains to be seen whether member states will heed warnings not to go soft on the U.K. in any of the individual bilateral arrangements they might extend, should talks for a comprehensive exit treaty fail. Meanwhile, it looks like they'll have to wait until at least next week to find out what Prime Minister Theresa May has in mind to get her deal approved. —  Ian Wishart, Nikos Chrysoloras
Golden Passports | What are the risks of granting citizenship and residency in exchange for investments? The European Commission has some thoughts on the matter. It will argue in a report presented today that these so-called golden passports and visas expose the bloc to money-laundering — a subject that's been a focus of attention this week.
Trade Sanctions | EU countries have until Jan. 29 to throw their support behind a European Commission threat to suspend Cambodia's tariff-free access to the bloc over human rights concerns. Any such move could inflict serious economic damage to Cambodia's $5 billion garment industry, which employs 750,000 people.
Election Headache | The U.K. wasn't supposed to have anything to do with elections to the European Parliament later this year. But with politicians in London at an impasse, it looks likely that Brexit will be delayed and officials in Brussels reckon disgruntled British voters would elect scores of anti-EU legislators given the chance. "73 Nigel Farages," as one of them put it. 
Crisis Films | Several of the crises plaguing Europe will be aired on the big screen today as the EU Council hosts a documentary screening including episodes like "Going for Broke" on the Greek crisis, "Unstoppable" on trends in migration, and "We Quit" on Brexit. It'll be tough for them to beat the acclaim of Greek director Yorgos Lanthimos, though. His film "The Favourite" received 10 Oscar nominations this year, putting it joint top with "Roma.'' 
Cashless Societies | MasterCard Inc. was slapped with a fine of almost 571 million euros for imposing rules that EU regulators said may have artificially raised the costs of card payments. MasterCard and Visa Inc. are separately seeking to settle another EU probe into the fees they charge tourists shopping in Europe.
Merkel's Star | Angela Merkel became Europe's preeminent leader with a reputation as an arch-pragmatist and master of the art of compromise. But a meeting of her party last June marked the end of the imperial phase of her chancellorship. Here's an insider look at how she lost her grip.
Populist Adversary | Italy's populists looking for an arch enemy to concentrate their nationalist rhetoric before European parliamentary elections have found one: France and its Europhile president Emmanuel Macron. In a battle that pits old guard defenders of European integration against populists trying to rebuild a Europe of nations, Macron is the perfect adversary. 
Sanchez's Shaky Ground | Spanish Prime Minister Pedro Sanchez's grasp on political power looked less solid on Tuesday after his parliamentary ally unexpectedly voted against a government-supported decree, raising questions about how he'll negotiate difficult budget talks ahead.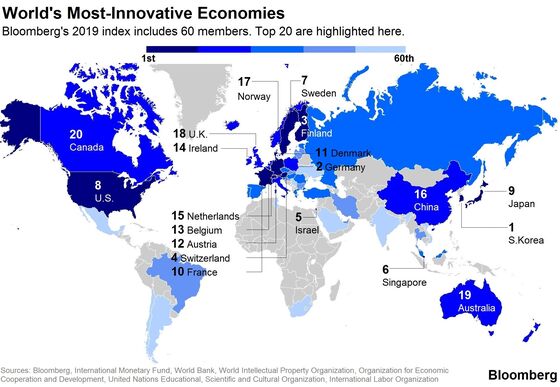 When it comes to innovation, no country in Europe beats Germany, which came second only to South Korea in the 2019 Bloomberg Innovation Index. Finland, Sweden and France also made it into the top 10 of the ranking, which looks at measures like research and development spending, manufacturing capability and concentration of high-tech public companies.
9:30 a.m. EU's top court gives non-binding opinion in a case referred to it by an Irish tribunal that seeks guidance on European arrest warrants in light of Brexit 
11 a.m. Eurostat to release data about tourism in 2018
1 p.m. Center for European Policy Studies event on MiFID II, One Year On, with industry executives, Dutch regulator
2:30 p.m. EU's chief Brexit negotiator, Michel Barnier, speaks at European Economic and Social Committee's January plenary in Brussels
3 p.m. EU27 government envoys in Brussels meet to discuss Brexit 
EU trade chief Cecilia Malmström in Davos for the World Economic Forum. EU Commissioner for Economic Affairs Pierre Moscovici due to speak at WEF panel at 4 p.m.