Brussels Edition: The Italian Standoff
(Bloomberg) -- Welcome to the Brussels Edition, Bloomberg's daily briefing on what matters most in the heart of the European Union.
Italy's simmering budget standoff with the EU will dominate a meeting of euro-area finance ministers today, as the bloc awaits Rome's response to an unprecedented demand for revised spending plans. The deadline isn't for another week, but with no indication that the Italian leadership is willing to consider any concessions to its a budget, a collision course that could eventually lead to financial sanctions looks all but certain. 
Reform Limits | The standoff between Italy and Brussels could soon claim another victim: plans to strengthen the euro-area, which finance ministers are also discussing today. While work on buttressing the currency bloc was already heading for a less ambitious deal, Italy's populist policies and German Chancellor Angela Merkel's early exit as party leader may limit any agreement at the EU summit in December to a small number of issues. 
Sanctions Return | The U.S. will today reinstate sanctions on Iran after withdrawing from the nuclear deal, a decision the EU's foreign policy chief condemned in a joint statement with the foreign and finance ministers of Germany, France and the U.K. Meanwhile, President Donald Trump said the U.S. remains open to reaching a comprehensive deal with Iran that blocks its nuclear-weapons program, just days before sanctions on the country's energy and shipping sectors kick back in. 
Tackling Apathy | As we wait for Europe's biggest party to pick its lead candidate for EU Commission president this week, the establishment may be in for an even bigger threat than populism in next year's European Parliament elections: voter apathy. The assembly is mounting an unprecedented get-out-to-vote campaign in a bid to reverse the trend. The goal is to counter the kind of energetic, targeted rallying deployed by populist parties.
Staying Put | As we move closer to Brexit day, the world's biggest banks are moving far fewer employees from the City to continental Europe than initially expected. This doesn't mean, though, that bankers, traders and money managers aren't worried about London's future as the financial gateway to Europe — and the latest EU stress test results won't help. 
Barclays at Bottom | Barclays Plc saw its key measure of financial health sink to the lowest level among 48 banks in the health-check, which gauged how well lenders could withstand heavy credit losses and other Brexit-related fallout. Barclays's fully loaded common equity Tier 1 ratio, a measure of its highest-quality capital, shrank to 6.37 percent in a so-called adverse scenario. Fellow London lender Lloyds Banking Group Plc didn't fare much better.
Not So Bad | Italy's biggest banks may be under pressure over their exposure to slumping government debt, but they fared better than many of their peers in Europe's strictest stress test ever. The country's largest lenders, Intesa Sanpaolo SpA and UniCredit SpA, finished in the middle of the pack. 
Party Fight | Contenders to succeed Angela Merkel as CDU party leader will criss-cross the country to campaign ahead of a convention in December, giving an early taste of the choices facing Europe's pivotal country. The process agreed Sunday among the party's leadership signals that Germany is headed for another inward-looking period as the post-Merkel era takes shape.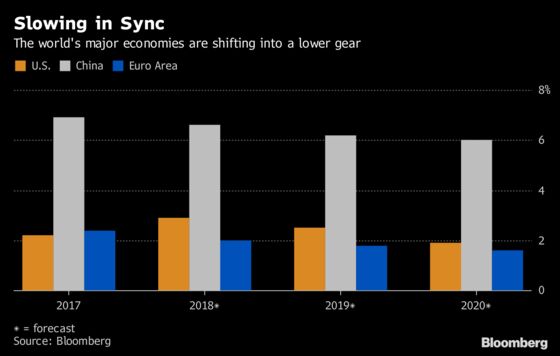 The world's major economies, which entered 2018 accelerating in sync risk, are heading into next year decelerating in sync. The shift is being led by China, where the economy's weakest performance since 2009 is set to worsen unless a peace can be struck in the trade war with the U.S. The euro-area too is losing momentum, expanding in the third quarter at half the pace of the prior three months as Italy and Germany stagnated.
12 p.m. German Chancellor Angela Merkel gives a press conference on the process for picking her successor as CDU party chief at a December convention. Germany's Social Democrats, junior partner in Merkel's coalition, will hold a news conference later to discuss their role in the government
3 p.m. Euro-area finance ministers meet in Brussels to discuss reforms in the currency bloc, Italy's budget
Belgian central bank conference featuring ECB officials, including Jan Smets, Peter Praet, Benoit Coeure, Vítor Constancio, Luis de Guindos and SRB s Elke König 
EU's chief Brexit negotiator Michel Barnier delivers speech in Brussels
EU trade chiefs Jyrki Katainen and Cecilia Malmström speak at European Political Strategy Centre conference in Brussels
EU's competition chief Margrethe Vestager in Denmark delivers a keynote speech on "the Future of Europe" in Ringe; delivers a keynote speech at the Association of Danish Journalists "Dansk Journalistforbund" Media Festival in Odense