Brussels Edition: The Final Five Days
(Bloomberg) -- Welcome to the Brussels Edition, Bloomberg's daily briefing on what matters most in the heart of the European Union.
After Prime Minister Theresa May's latest defeat in the British Parliament, the Brexit debate returns with a bang on both sides of the English Channel. Lawmakers in London start five-day deliberations on the divorce deal signed in November, before Tuesday's key vote. May is still holding out for the EU to give assurances on the so-called backstop, an insurance policy to prevent a hard border between Northern Ireland and the Republic of Ireland in case no future compromise is reached. But the bloc's envoys, meeting in Brussels today, may not be ready to give her what she wants. 
Easier Taxes | Over lunch today, Commissioner for Economic Affairs Pierre Moscovici and EU ambassadors will discuss the possibility of ending national vetos on tax policy. If the little-noticed initiative is formally unveiled this quarter, it may struggle to avoid the same fate of previous controversial ideas from the Commission, like the infamous sovereign bond-backed securities, which was summarily dismissed.
Populists Unite | Italian Deputy Premier Matteo Salvini, seeking to forge a populist, euro-skeptic alliance before European parliamentary elections in May, heads to Warsaw today to cozy up with the leader of the Polish ruling party, Jaroslaw Kaczynski. But it may be tough for Europe's populists to bridge their differences. 
Washington Welcome | EU trade chief Cecilia Malmstrom will be busier than she planned during her visit to Washington this week. She'll now spend time with U.S. Treasury Secretary Steven Mnuchin on Thursday to discuss EU plans to screen foreign direct investment and is also scheduled to meet some members of Congress.
New Name | It's not often a country changes its name, but Macedonia may be on the cusp of doing just that to end a decades-long dispute with Athens and potentially open the way for it to become part of NATO and the EU. Lawmakers in what could soon be North Macedonia will today discuss the constitutional amendments needed to make that happen. 
Cool Breeze | Speaking of Athens, Greeks woke up yesterday to the rare sight of their capital city covered in snow. The same weather pattern that caused a Siberian blast of cold air dubbed the "beast from the east" could re-emerge at the end of this month.
Balancing Act | The EU has been treading a fine line in its efforts to salvage Iran's nuclear accord, while not appearing soft towards state-sponsored terrorism. Yesterday, the bloc sanctioned an Iranian intelligence service and two natives of Iran for an alleged bomb plot in France.
Icy Protests | More than 10,000 people braved the freezing weather in Budapest to demand the government repeal what they're calling "the slave law." This is why Hungarians may stage their first general strike since the 1989 fall of the Iron Curtain.
Life After Mario | The ECB is preparing for a new president with the economic and political challenges that have dogged Mario Draghi's eight years in charge far from resolved. But with so many EU jobs up for grabs, choosing a successor may not be that easy.
Cannabis Infusion | Brexit or Italian bank woes got you down? Elin McCoy explores seven ways wine may help you drown out your worries in 2019, including varieties laced with marijuana.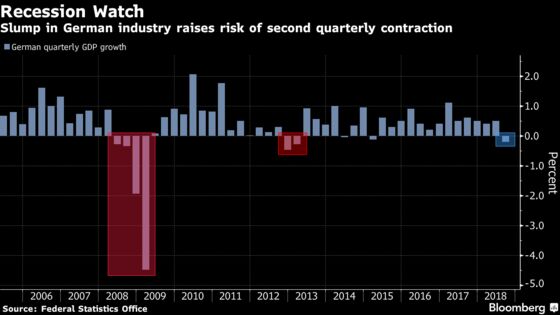 The big drop in German industrial activity late last year has raised the risk that Europe's largest economy will slip into a technical recession. A slump in Germany has repercussions for the euro area, where separate numbers on Tuesday showed economic confidence has fallen to the lowest in almost two years.
11 a.m. Eurostat to release November unemployment data
EU trade chief Malmstrom is in Washington D.C. to participate in trilateral discussions with Japan and the U.S. to address issues such as distortive trade practices 
EU competition chief Margrethe Vestager will deliver a keynote speech in Berlin at the Welt Wirtschaftsgipfel conference and will participate in the Citizens' Dialogue. Other attendees include Eurogroup President Mario Centeno, Austrian Chancellor Sebastian Kurz and German Economy Minister Peter Altmaier
Against the backdrop of pre-Brexit angst, Bank of England Governor Mark Carney will answer questions in an online chat
Italian Deputy PM Salvini meets the leader of Poland's Law and Justice party, Kaczynski, in Warsaw