Brussels Edition: Taxing Tangle
(Bloomberg) -- Welcome to the Brussels Edition, Bloomberg's daily briefing on what matters most in the heart of the European Union.
Will another tax bite the dust? The EU's ambitious initiative  to force Google and other tech giants to pay more into public coffers is getting caught up in a thicket of opposition, and may put plans for an interim levy by year-end in doubt. The debate today among the bloc's finance ministers will show whether the digital services tax will meet the fate of the Robin Hood tax on financial transactions and land it on the pile of cans kicked down the Brussels road.
 
Tax Havens | Finance Ministers will also revise their blacklist of tax havens, and you may be pleased to know that Namibia is being taken off, according to a draft of the recommendation we've seen. The retained list is heavy on U.S. territories, including American Samoa, Guam and the U.S. Virgin Islands. Donald Trump would be unhappy — if  he cared, that is. 
Midterm Elections | Speaking of Trump, European officials today will have their eyes glued on U.S.  congressional elections. The midterms could end the one-party government — and potentially spell a U.S. legislature friendlier towards the EU. Wishful thinking?
Carbon Subsidies | Back in Brussels, finance ministers will commit today to phase out "environmentally harmful subsidies" and to quickly end "financing for emission-intensive projects," according to a draft of their conclusions on climate funding. Whether all of this is too little, too late for our planet remains to be seen.  
Barnier Bonanza | For more than 90 minutes in a packed concert hall in Brussels yesterday, EU Brexit negotiator Michel Barnier spoke of everything from Greek forest fires to Danish fishermen. And talks with the U.K.? You guessed it: the Irish border question remains unresolved. Theresa May's cabinet will be locked in a room today, seeking a compromise.
Italy Rebuked | Euro-area finance ministers upped the pressure on Italy to submit a revised budget that's in line with EU rules, backing the commission's unprecedented reprimand. As leaders in Rome remained defiant and the country's finance chief showed no willingness to change the spending plans, it's unclear whether Italy will comply to avoid further escalation.
Iranian Sanctions   | The Trump administration gave a stark warning to companies around the world: Evading sanctions on Iran will hurt. As for the EU's plan to set up a special purpose vehicle to bypass sanctions? The U.S. responded with contempt: "I think the SPV is nothing more than a paper tiger," said Gordon Sondland, the U.S. ambassador to the EU.
Airbnb Rentals | A quarter of the apartments in central Prague are listed on sites such as Airbnb, say city officials, who blame the services for helping fuel a 50 percent jump in property values since 2013. Prague's woes are being echoed across Europe as residents fault Airbnb for hosting loutish visitors and spurring rent increases. An EU-wide clampdown may be imminent.
Swedish Saga | As Sweden struggles to form a government two months after an inconclusive election, the baton to break the gridlock and find a viable coalition will now be passed to moderate leader Ulf Kristersson. Meanwhile, even amid the longest expansion in four decades, unemployment in the largest Nordic economy is at more than 6 percent, still not back to pre-financial crisis levels.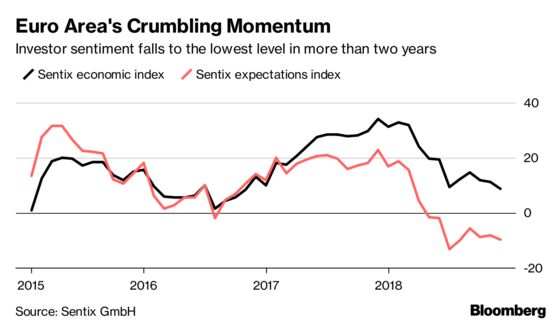 Euro-zone companies are increasingly running into capacity constraints that will boost inflation, the European Central Bank  said in a report. The ECB report came just before Sentix published its gauge of investor confidence, which slumped to 8.8, the poorest reading since October 2016. Data last week showed the euro-zone grew just 0.2 percent in the third quarter, half as much as economists had predicted.
8 a.m. EU finance ministers meet in Brussels to discuss taxation of tech companies, EU statistics, as well as the upcoming G-20 and IMF meetings 

EU Commissioner Elżbieta Bieńkowska delivers a keynote speech at the European Diesel Summit organized by Transport & Environment