Brussels Edition: Spain Votes for Stability
(Bloomberg) -- Welcome to the Brussels Edition, Bloomberg's daily briefing on what matters most in the heart of the European Union. 
Spain voted to keep Prime Minister Pedro Sanchez in power, a rare victory for the center-left in Europe these days. The conservative People's Party suffered its worst result ever, with the upstart right-wing Vox party picking off many of its supporters. Exactly how the premier will put together a majority will be the subject for talks in the weeks ahead. But with voter turnout the highest since 1996, there was no sign of electoral apathy even after three elections in four years.
Balkan Summit |German Chancellor Angela Merkel will be joined by French President Emmanuel Macron in Berlin Monday to co-host a summit on the western Balkans. But there may be more interest in the body language between the two after Macron laid bare widening Franco-German disputes over trade, defense, Brexit and euro-area economic policy. The French leader referred last week to "fruitful confrontations." 
German Options | If Germany wants to clinch the leadership of the European Central Bank, it might need a backup plan. While Bundesbank chief Jens Weidmann is the country's assumed candidate, his frequent opposition to Mario Draghi's policies risk making him unpalatable to some. So if Angela Merkel decides Germany deserves the job, she may need alternatives.
Big Data Week | The world economy's ability to rebound from its recent soft patch will be tested anew this week. In Europe, France and Italy are due to release output data tomorrow which, along with the euro-area number, will help provide a better picture of the first quarter, when the ECB became alarmed enough to reactivate its stimulus stance.
Last Try | Theresa May is still pursuing a Brexit deal that would get the U.K. out of the EU before elections next month. With negotiations with the opposition set to continue this week, there's still some time for Parliament to settle on a deal before the vote. But May has described the discussions as "difficult," while Labour officials say she has refused to compromise. 
Passport Tensions | Vladimir Putin said he may extend an offer of citizenship to cover all Ukrainians after he sparked controversy by ordering passports be made available to people in areas of the country controlled by pro-Moscow separatists. The order threatens to ratchet up a confrontation between Russia and Ukraine, which has repeatedly accused Putin of sending troops and weapons to aid the separatists. 
Polish Upstart | Robert Biedron, Poland's first openly LGBT politician, wants to pull his country back into the European mainstream and away from the pious nationalism and homophobia that's permeated society under the current government. His party, Spring, is less than three months old, but opinion polls suggest it could play kingmaker should a pro-EU alliance of opposition parties eat into support for the governing Law & Justice party.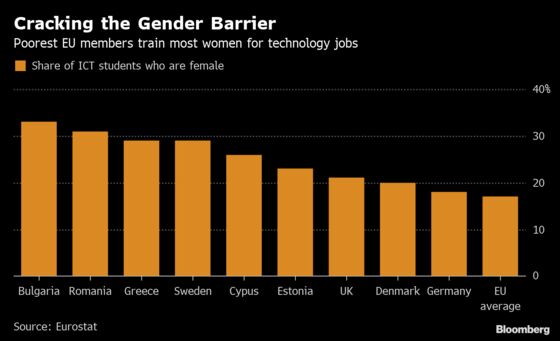 The EU's poorest countries are the most diverse when it comes to training women for technology jobs. Bulgaria and Romania lead the latest ranking done by Eurostat for the share of female students in information and communication technology to meet the growing demand for high-skilled and better-paid jobs. Still, women in Europe are in a minority in the tech world, averaging only 17 percent of all students in the industry. And once they get into the workforce, don't count on men to hire them.
5 p.m. German Chancellor Angela Merkel, French President Emmanuel Macron host Western Balkans meeting in Berlin. EU foreign policy chief Federica Mogherini takes part
5 p.m. ESM Managing Director Klaus Regling speaks at the Europa-Symposium in Munich