Brussels Edition: Signs of Life
(Bloomberg) -- Welcome to the Brussels Edition, Bloomberg's daily briefing on what matters most in the heart of the European Union.
Is the euro area finally over its recent slump? Economic numbers have been more mixed in the past few weeks, sparking some hope that the bloc may finally be starting to overcome the weak patch that was at risk of becoming entrenched. The European Commission's quarterly economic forecasts today may provide clues on how sustainable officials reckon the recovery is. Any signs of improvement will be particularly well-received by European Central Bank policy makers, who are hoping the stimulus they prepped becomes less urgent.
Pompeo Meets Merkel | There will be no shortage of topics for U.S. Secretary of State Michael Pompeo today when he meets Angela Merkel and her foreign minister, Heiko Maas, in Berlin. President Donald Trump has singled out Germany on a range of issues, from its trade surplus to inadequate defense spending. The latter especially may boil over, with Maas's party, the Social Democrats, deriding the NATO-sponsored 2 percent spending goal as Trump's "weapon fetishism."
Protege Struggling | Meanwhile, five months after Merkel handed over the reins as her party's leader, the transition to her chosen successor as German chancellor is shrouded in uncertainty. Annegret Kramp-Karrenbauer — known as AKK — has struggled to fit into her role as party chairwoman, as fumbled overtures to the party's right flank, a contested lineup on the campaign trail and the scheduling of an extraordinary leadership meeting for early June have prompted a flurry of speculation, including over Merkel's resignation.
Uneasy Britain | U.K. Prime Minister Theresa May's uneasy courtship of Labour leader Jeremy Corbyn to get a Brexit deal done is set to reach a crunch point today. If the talks fail, the chances of another referendum or even an emergency election will rise, while May herself could be forced out. Officials on both sides have privately sounded optimistic, partly because of the generally positive atmosphere in which at least some of the discussions have taken place, Tim Ross reports.
Trade Woes | Talks between the U.S. and China to resolve their year-long trade standoff are on life-support following Trump's tweets threatening an escalation of tariffs by the end of the week. Meanwhile, EU and U.S. officials are holding deliberations in Washington to prepare a meeting between European trade chief Cecilia Malmstrom and American counterpart Robert Lighthizer as both sides prepare to kick off negotiations on cutting industrial tariffs.
Italian Feud | Relations between Italy's populist allies sank to new lows as Deputy Prime Minister Luigi Di Maio called for a lawmaker from the League to resign. The feud between the League and the Five Star Movement has escalated so much that Matteo Salvini could force early elections after EU ones in late May. With opinion polls showing the League will likely emerge as Italy's strongest party, Salvini may be doubly tempted.
Orban's Rift | Hungarian Prime Minister Viktor Orban said he doesn't support Manfred Weber, his political family's main candidate to run the European Commission, deepening a rift with the group that suspended his membership over the erosion of democratic values. While EU nations can't individually veto a new EU commission chief, Orban's comments reflect the schism between the European People's Party mainstream and his Fidesz party.
Greek Confidence | Greek Prime Minister Alexis Tsipras is set to survive yet another challenge in the country's parliament, where lawmakers will cast ballots this week in the fifth confidence vote since he came to power in 2015. The debate is scheduled to begin Wednesday and the vote in parliament will take place late on Friday.
Finnish Nationalists Surge | The nationalist Finns Party is now Finland's most popular political movement, according to the first poll published since last month's parliamentary election, which saw the opposition Social Democrats come out on top. The poll numbers add to the pressures that Social Democrat leader Antti Rinne faces as he seeks to form a viable coalition government.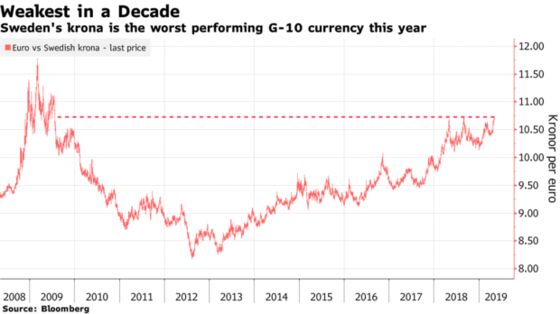 Sweden's krona declined to a decade low against the euro amid renewed anxiety about a global trade war and as the latest data fueled concern a slowdown in the Scandinavian economy is deepening. The Swedish currency extended the worst year-to-date performance among Group-of-10 currencies as investors spurned riskier assets after Trump threatened to increase tariffs on Chinese goods. 
9:30 a.m. ESM Chief Economist, Rolf Strauch, speaks at the 7th European Corporate M&A Conference in Frankfurt
10:45 a.m EU trade chief Cecilia Malmstrom participates in a roundtable discussion at the European Business Summit and delivers a keynote address at the Flanders International Economic Summit, in Brussels 
3:15 p.m. U.S. Representative to the EU Gordon Sondland speaks at the  European Business Summit
European Commission releases its quarterly economic forecasts 
EU Commission President Jean-Claude Juncker holds a press conference ahead of the informal meeting of EU27 leaders in Sibiu, Romania
Cisco hosts an event in Brussels on trust, privacy and ethics in the Internet
Eurogroup chief Mario Centeno speaks at Bloomberg event in Brussels 
EU's foreign policy chief Federica Mogherini in San José, Costa Rica: co-chairs a meeting of the International Contact Group on Venezuela
Eurostat to release data on electric cars in the EU
French Finance Minister Bruno Le Maire, Japanese finance minister Taro Aso, IMF Managing Director Christine Lagarde speak at Paris forum
Germany's Merkel meets U.S. Secretary of State Pompeo in Berlin