Brussels Edition: Secret Ballots
(Bloomberg) -- Welcome to the Brussels Edition, Bloomberg's daily briefing on what matters most in the heart of the European Union.
The wait to find out who will be Europe's next top banking watchdog ends today with a secret ballot. The choice before the European Central Bank's governing council is Ireland's Sharon Donnery or Italy's Andrea Enria, both seasoned experts in supervising lenders. And yet in a confidential letter to ECB President Mario Draghi last month, European lawmakers made a point to highlight Donnery's gender while touting Enria's experience in explaining why the two made it to the last lap. A mountain of bad debt and an influx of global banks escaping Brexit will be waiting for whoever triumphs.
Italian Confidence | A confidence vote expected today in the Italian Senate aims to strong-arm Five Star dissenters, who face expulsion from the party if they vote against the government. Proposals to curb immigration and corruption have fueled tensions. Deputy Premier Matteo Salvini of the anti-immigration League is pushing for restrictions on the rights of asylum seekers, while several senators of the anti-establishment Five Star Movement are against the measures.
Final Sprint | Germany's Manfred Weber and Finland's Alexander Stubb will go head-to-head in a European People's Party debate in Helsinki this evening as they vie for a chance to succeed Jean-Claude Juncker as European Commission president. While Weber is widely seen as prevailing in Thursday's secret ballot, he would still need to face off against candidates from other parties for the EU's most influential job — or whomever else European leaders parachute into the race after elections next May.
Against Populists | The threat of populism sweeping across Europe has become so potent that the EU's biggest political party is asking its members to back a resolution underpinning their support for liberal democracy. The move comes just weeks after one of the Christian Democrats' own, Hungarian Prime Minister Viktor Orban, came under unprecedented scrutiny for assaulting some of the very liberties nationalists often get criticized for.
Brexit Troubles | Theresa May isn't about to let a cabinet kerfuffle yesterday impede her progress on Brexit talks. She's preparing to ask ministers to approve a draft deal potentially within days — that is, if she can overcome new resistance to her strategy. Meanwhile, the toll Brexit is going to have on the City of London looks a lot grimmer now that a trading venue handling $240 billion in volumes a month has decided to leave.
Digital Divide | If you needed more evidence of the widening EU divisions, look at the talks that ended in shambles yesterday over a tech tax. As several countries doubled down with their opposition, others like Italy vowed to press ahead on their own. The spat epitomizes the conflict between luring lucrative business and addressing popular discontent with letting companies off the hook.
Kicking the Can | Many ambitious initiatives are going nowhere in the EU, with the plan to make tech giants like Amazon.com pay up becoming the latest victim of the bloc's inertia. But if you're a fan of change, despair not. Everything, including longer winter days, might still happen. You'll just have to wait until 2021.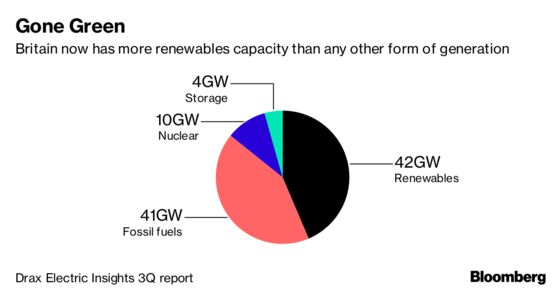 Green energy powered a record 42 gigawatts of Britain's electricity grid in the third quarter, giving it the largest share of the nation's energy mix. Fossil-fuel capacity has declined as old power stations are retired.
11 a.m. Eurostat to release September retail trade data
4 p.m. EU trade chief Cecilia Malmström participates in the Global Think Tank Summit 2018 in Brussels 
EPP Party congress in Helsinki to pick lead candidate for European Commission president
European Fund and Asset Management Association conference
EU top court rules in creditor case over Banco Espirito Santo