Brussels Edition: Now What?
(Bloomberg) -- Welcome to the Brussels Edition, Bloomberg's daily briefing on what matters most in the heart of the European Union.
What's next for Brexit? After last night's unprecedented parliamentary defeat upended the deal Theresa May spent 18 months negotiating, stunned diplomats in Brussels said they had no intention of reopening the agreement. Nor are they in any rush to call a summit to decide on next steps. Chief Brexit negotiator Michel Barnier will take part in a debate in the European Parliament today, but what the EU really needs is clarity from May. She will now return to Brussels, likely by week-end, and will have a lot of explaining to do.
Greek Teflon | After surviving a bank run of his making, recession, a disastrous referendum, mutiny by his backbenchers and even the uproar that followed a deadly wildfire, Greek Prime Minister Alexis Tsipras once again finds himself in the line of fire. He faces a confidence vote tonight after falling out with a coalition partner over the deal to end a name dispute with Macedonia. All indications suggest he'll most probably survive again.
Sanchez Speaks | Spanish Prime Minister Pedro Sanchez heads to Strasbourg to share his thoughts on the future of Europe with the European Parliament. While his minority government is struggling to even pass the 2019 budget at home, his appearance is sure to give EU Socialists a morale boost with the second-biggest group in parliament facing possible losses in May bloc-wide elections.
Russian Weapons | Top U.S. officials will brief NATO allies in Brussels today about the failure of the latest round of talks with Russia to salvage a landmark nuclear accord. Donald Trump's administration may pull the plug on the so-called INF Treaty in less than a month, raising the risk of grand-scale redeployment of intermediate-range nuclear missiles on European soil.
Extremist Threat | Germany's domestic intelligence agency will intensify monitoring of the far-right Alternative for Germany with a view to placing the anti-immigrant party under formal observation as a potential threat to democracy. AfD co-leaders Alice Weidel and Alexander Gauland said that the move is politically motivated and the party, which entered the Bundestag for the first time at the last election, will challenge it in the courts.
Big-Mac Row | McDonald's plans to appeal after losing some EU trademark rights to the Big Mac name following a challenge by smaller Irish rival Supermac's. The EU's Intellectual Property Office ruled that McDonald's failed to prove "genuine use" of the trademark across the bloc over a continuous five-year period.
Poor Judgments | Some poor people "are just messing around," French President Emmanuel Macron said at a debate on the country's future direction. As he seeks to calm the protests that have roiled Paris and other cities for almost two months, the remarks may not have the desired effect.
Crisis Flashback | Coinciding with grim banking news out of Italy and Germany, a gauge of financial health is flashing a warning sign on European growth. According to this measure, Europe has overtaken Latin America in terms of bank risk for the first time since the euro-zone crisis in 2012.
Draghi's Outlook | And yet even with all the negative economic headlines, European Central Bank President Mario Draghi said the euro-area economy isn't headed for recession. He did acknowledge that softening momentum underscores the need for stimulus, though.
Weidmann Extension | One contender to succeed Draghi, Bundesbank President Jens Weidmann, will have his contract extended by the German government for another eight years when it expires at the end of April, we have learned. Once the frontrunner for the top ECB job, Weidmann has since slipped behind rivals including Finland's Erkki Liikanen and Francois Villeroy de Galhau of France.
Chinese Foothold | China's push to gain a foothold in Europe is being met with resistance from national governments. But Beijing is bypassing it by making friends in regional authorities. And capitals are alarmed.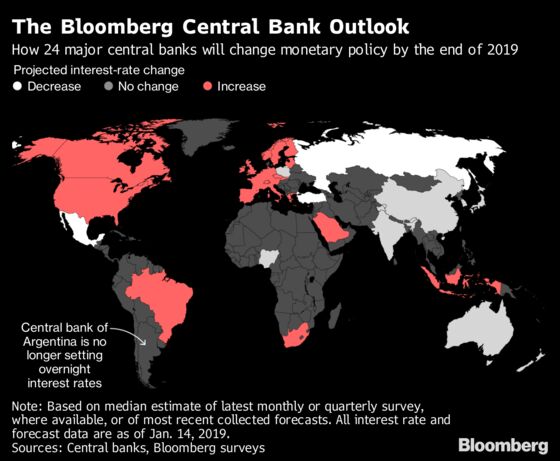 Central banks enter the new year under pressure from investors to rethink just how aggressive they can be in hiking interest rates. A slowdown in the global economy, trade disputes and skittish financial markets are forcing policy makers to express fresh caution about their scope for tightening monetary policy. Bloomberg Economics mapped their plans. 
8:30 a.m. EU lawmakers in Strasbourg debate Brexit

9:30 a.m. EU top court rules on European Commission appeal in case related to United Parcel Service's attempt to acquire TNT Express. The parcel service was earlier victorious in toppling the EU's 2013 veto of that takeover bid

10 a.m. Spanish Prime Minister Sanchez takes part in "Future of Europe" debate at the European Parliament in Strasbourg. A press conference by EP President Antonio Tajani and Prime Minister Sanchez is scheduled for 12.30 p.m.

1 p.m. Arno Rasek, chief economist at Germany's Competition Authority, speaks at Bruegel event in Brussels

3 p.m. Economists, academics discuss competition in digital age at Lisbon Council event in Brussels

4:30 p.m. Andrea L. Thompson, U.S. Under Secretary for Arms Control and International Security, and Ambassador Kay Bailey Hutchison, U.S. Permanent Representative to NATO, brief reporters in Brussels on the status of the INF Treaty

6:30 p.m. ESM Managing Director Klaus Regling discusses, "the importance of a functioning currency" at Club 20 in Vienna