Brussels Edition: Mutiny in Berlin
Angela Merkel can no longer count on majority backing for her policies after the chancellor's own party deposed her longtime ally as parliamentary caucus leader. The loss of a trusted lieutenant who marshaled her forces in the Bundestag adds to signs that the star of Europe's once undisputed leader is fading. She's a victim of waning support for the established parties amid an increasingly polarized debate over migration, woes that reflect EU divisions ahead of next year's European elections. Will the anchor who kept the bloc together during the economic crisis stage a comeback — or should Europe start looking to an uncertain future without her?
German Divisions | The German government's annual report on the state of reunification might as easily be documenting Europe's East-West divide. Issued today ahead of the Oct. 3 anniversary, it can boast of the east's improving economy and record-low unemployment. But 28 years on, disparities in income and opportunity persist, feeding voter anger. A poll earlier this month showed the anti-immigration AfD is the strongest party in Merkel's former eastern homeland.
SSM Succession | Europe's top banking watchdogs expect to be briefed as early as today on the shortlist of candidates to succeed Daniele Nouy as chair of the Single Supervisory Mechanism. Sharon Donnery, the Irish central bank's deputy governor, is among applicants to succeed Nouy, whose five-year term as Europe's banking supervisor-in-chief, ends in December. 
May's Ultimatum | EU ambassadors are set to map out the next crucial weeks for Brexit when they hold a closed-door session in Brussels this afternoon. Theresa May said that she prefers a no-deal Brexit rather what's currently on offer by the bloc: a Canada-style free trade agreement for Great Britain while Northern Ireland stays in the EU's single market and customs union. We may hear more about this when May speaks at Bloomberg's Global Business Forum in New York this morning.
Nearing a Name | At least there's one dispute edging toward a resolution. The Republic of Macedonia will hold a referendum on Sept. 30 on changing the former Yugoslav state's name to Republic of North Macedonia. Agreeing to the geographical denominator is key to settling a 27-year-old row with Greece, which has kept the small state out of NATO and the EU. Polls show most people support the change, meaning the decades-old dispute could soon be moving closer to an end.
Defying Trump | The EU, China and Russia backed a mechanism to allow "legitimate" business to continue with Iran, a plan aimed at sidestepping American sanctions and allowing international trade to continue unimpeded as President Donald Trump pursues his "America First" agenda. The Iran move is part of the EU's broader strategy to emancipate from the U.S and use its economic clout to advance its own independent foreign policy goals. Another example of this: French President Emanuel Macron said the bloc shouldn't sign free trade deals with countries not respecting the Paris Climate accord.
Swiss Risk | Due to a political dispute between Switzerland and Brussels, EU-based traders are in the dark about where they'll be able to buy and sell shares of Nestle, Roche, and other Swiss companies from next year. That's because an extension of the so-called "equivalence" status for Switzerland under the EU's MiFID II regime expires and the bloc has made a long-term deal conditional on the two sides achieving progress on broader political issues. A scene from Britain's future?
ECB vs Latvia | The ECB accused Latvia of "disregarding entirely" the constitutional independence of Governing Council member Ilmars Rimsevics in a faceoff at the EU's highest court. The court's advocate general said she'll publish a non-binding opinion on Nov. 28, with a ruling is expected soon after. Latvia's financial industry is retrenching amid allegations of wide-scale money laundering.
Off the Hook | While the EU may be angry with Malta, the bloc's top banking regulator announced on Tuesday that the nation didn't breach Union law while supervising Pilatus Bank, the institution at the heart of yet another money-laundering scandal. Markus Ferber, a European Parliament lawmaker, said the EBA should have been harsher.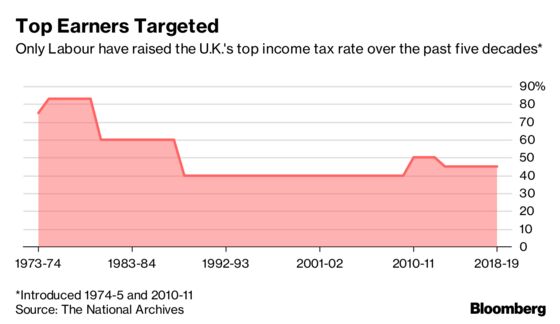 The Labour party's pledge to hold a second referendum, if needed, may be the best chance for U.K. businesses to avoid a hard Brexit. At the same time, Labour leader Jeremy Corbyn has vowed to raise taxes for higher earners, and his agenda may be a bigger headache for the City than Brexit. The rich may not even be asked to choose their poison. 
EU27 ambassadors in Brussels meet to discuss Brexit 
Digital Finance Conference: Fintech companies, bankers, lawmakers as well as regulators and central bankers, including Jan Smets, governor of the Belgian national bank, gather in Brussels at conference on the future of fintech 
EU top court gives rulings in final appeals by Philips and Infineon for fines levied by the European Commission in the smart card chip cartel
EU Council President Donald Tusk holds meetings with President of Peru Martín Vizcarra, President of Chile Sebastián Piñera
EU Commission VPs Maroš Šefčovič and Valdis Dombrovskis in New York, participate in the Bloomberg Global Business Forum

EU Competition chief Margrethe Vestager interviewed by John Micklethwait at Bloomberg Global Business Forum

EU trade chief Cecilia Malmström in Montreal, meets James Gordon Carr, Minister for International Trade Diversification of Canada; participates in a Plenary Meeting of the Comprehensive Economic and Trade Agreement Joint Committee
EU Justice Commissioner Vera Jourova speaks at Amazon event in Brussels 
Like the Brussels Edition?