Brussels Edition: Merkel's Next Test
(Bloomberg) -- Welcome to the Brussels Edition, Bloomberg's daily briefing on what matters most in the heart of the European Union.
It may only be a regional ballot, but Sunday's election in the German state of Hesse is shaping up to be a bellwether of Angela Merkel's authority. Her Christian Democratic Union has ruled the state that includes Frankfurt since 1999 but is polling poorly going into the vote; the result threatens to again lay bare the depth of public dissatisfaction with the ruling parties in Berlin. Losing Hesse would pile pressure on Merkel six weeks before she stands for re-election as head of the CDU, and further embolden those unhappy with her leadership.
Zombie Tax | A working group of tax experts from EU member states meets today to discuss — what else? — moves to impose a 3 percent tax on the revenue that tech companies make within the bloc. The commission's legal service is at loggerheads with counterparts at the EU council over the legal basis of such a tax, but we'll save you the details of internal memos we've seen. What you need to know is the EU's Austrian presidency has given up on seeking an agreement at next month's finance ministers' meeting in favor of a "state of play" discussion.
Week-Ahead | It's all about economy and finance next week as we await Eurostat's readings for third-quarter growth (Tuesday), and October inflation and September unemployment (Wednesday). The results of EU-wide stress tests on bank balance sheets come on Friday. Bank stocks across the continent have seen better days, but the focus will be on how lenders in Italy and Germany fare.
Brexit Talks | As for Brexit negotiations next week, there are no firm plans. Informal contacts are ongoing, but Prime Minister Theresa May's cabinet is not close enough to agreeing on a way forward for top level talks to resume. Even as time is running short to reach a deal, there will almost certainly be no new plan put forward by the British side before next Monday's budget, Tim Ross and Dara Doyle report.
Remain Calm | Mario Draghi delivers a keynote speech this afternoon in Brussels, a day after the ECB's Governing Council confirmed it still expects to cap bond buying under its 2.6 trillion euro ($3 trillion) asset-purchase program at the end of the year. In his Thursday press conference, the ECB president told his native Italy to calm down and avoid policies that will push up borrowing costs, and said that risks to the euro-area economy remain "broadly balanced" even as recent surveys suggest  the outlook may have darkened.
Italian Uncertainty | Political upheaval isn't exactly a novelty in Italy — the country has had some 65 governments since World War II. But the current coalition of the anti-establishment Five Star Movement and the anti-immigration League is ripping up policy norms like seldom before. The upshot is that in Italy, as around the world, companies are struggling to cope with the growing political uncertainty stoked by populism.
Facebook Fined | Facebook Inc. was slapped with a symbolic 500,000-pound ($645,000) fine by the U.K.'s privacy regulator for "serious" violations of data protection rules that paved the way for the  Cambridge Analytica scandal. The fine is the highest possible for the Information Commissioner's Office under old rules that predated this year's EU revamp of privacy penalties.
Soros Exit | Central European University, established by billionaire investor-philanthropist George Soros to spread democracy in post-communist Europe, will prepare to relocate to Vienna from Budapest after Hungary's government moved to shut it down. The development is a victory for Hungarian Prime Minister Viktor Orban and resurgent nationalists around the world who have vilified Soros, and could further strain relations between Budapest and Brussels.
Venceremos | With all the doom and gloom among socialist parties across the EU, here's a piece of good news for our center-left readers to lift their spirits before the weekend: Spain's Socialists would win a general election with a wide margin over their traditional conservative rivals if the vote were held this month, according to the country's state pollster CIS. While polls suggest the Socialists are increasing their support, Prime Minister Pedro Sanchez is struggling to push his policy agenda through parliament, where he has just 84 out of 350 seats.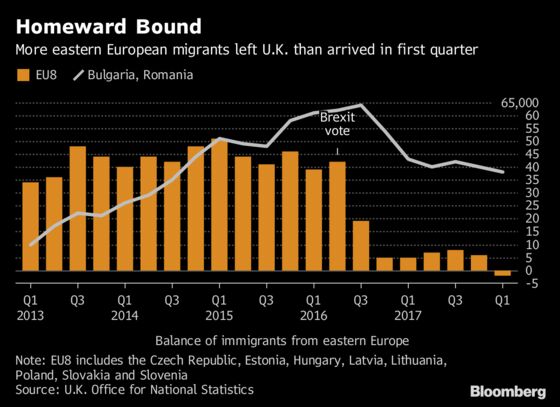 There's a silver lining in all this Brexit muddle, at least for Europe's labor-starved east. A dwindling flow of workers from eastern Europe into Britain would benefit countries such as Poland, where unemployment is at a record low and rising wages are starting to  threaten economic growth.
12:30 p.m. EU Commission President Jean-Claude Juncker gives joint press conference with Tunisian Prime Minister Youssef Chahed
4 p.m. ECB's Draghi delivers keynote address at Belgian central bank event
EU trade chief Cecilia Malmstrom participates in joint ministerial trade committee with African, Caribbean and Pacific countries
EU Commission Vice President Valdis Dombrovskis receives London Mayor Sadiq Khan