Brussels Edition: Day of Reckoning
(Bloomberg) -- Welcome to the Brussels Edition, Bloomberg's daily briefing on what matters most in the heart of the European Union.
It's budget D-Day for Europe. Italy's populist rulers along with every other euro-area government must submit their draft spending plans to the guardians of the EU's economic rule book by midnight tonight. After weeks of the coalition in Rome whipsawing markets, the focus now shifts to the European Commission, which will in all probability send the plan back and ask for revisions. A bitter standoff could send shock waves across the bloc.
Brexit Stalemate | Brexit negotiators failed to break the deadlock after a weekend of intense talks, leading to the cancellation of a meeting of EU governments scheduled for today. No more negotiations are planned before the bloc's leaders meet on Wednesday for a key summit. While there's still a chance some positive words can be cobbled together then, the inability of the two sides to bridge the divide has increased the chances of a messy no-deal exit.
Budget Bustle | Europe's political and economic frailties mean the spotlight isn't just on Rome. The minority Spanish government holds a final meeting on its 2019 budget as it seeks to muster the support needed to push through with its plans. Greece, which will participate in the EU monitoring exercise for the first time, is also walking a fine line as it attempts to stick to its post-bailout fiscal commitments while avoiding planned pension cuts.
Migration Talks | EU foreign affairs ministers gather in Luxembourg with the divisive topic of migration back on the agenda. They're due to discuss Libya and the Central African Republic, as they address the external aspects of migration ahead of this week's EU summit. According to draft conclusions seen by Bloomberg, leaders expect to highlight the importance of "strengthening cooperation on migration with countries of origin and transit." 
Name Issue | The Republic of Macedonia parliament faces a vote that will either approve a deal opening the way to NATO and EU entry or trigger early elections. Lawmakers today start deliberating a constitutional amendment renaming the Balkan country of 2 million to the Republic of North Macedonia. A Sept. 30 referendum that saw a majority back the name change but on a very low turnout has emboldened the opposition and complicated the debate.
Bavarian Blues | After months of infighting over migration policies, Angela Merkel might be allowed a brief smile at the kicking her prickly Bavarian sister party received in a state election yesterday. But the results for her two coalition partners make for more solemn reflection: Bavaria's ruling CSU and the Social Democrats lost more than 20 percentage points between them. That vulnerability is likely to make for an even more unpredictable governing coalition in Berlin.
Luxembourg Open | The makeup of Luxembourg's next government was left open after the Greens and the Pirate Party gained spots in the 60-seat parliament while Socialists, Liberals and Conservatives all incurred losses. In national elections yesterday, the overall winner was Jean-Claude Juncker's Christian Social People's Party, but it lost two seats, leaving it with 21. The Greens already made it clear that they want to be part of any coalition.
Bali Recap | Awoken by a magnitude 6.4 earthquake at the IMF annual meetings in Bali, global finance chiefs spent the week assessing the tremors rippling through the world economy. A worsening growth outlook and wobbly stock markets gave finance ministers and central bankers plenty to talk about. Here are the key takeaways from their discussions. 
Swedish Dilemma | The leader of Sweden's four-party opposition Alliance abandoned his attempt to form a government as the Nordic nation enters its second month of political limbo following September's inconclusive election. The Alliance failure underlines deep divisions over whether to approach the nationalist Sweden Democrats to share power after four years of Social Democratic rule.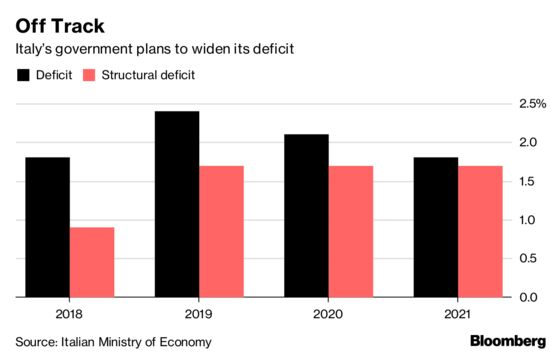 Italy's planned budget deficit for 2019 will be 2.4 percent of gross domestic product, a level EU officials have said is in breach of the bloc's rules. The government aims to reduce the shortfall to 2.1 percent in 2020 and 1.8 percent in 2021. Crucially, the key structural deficit measure — which strips out one-off spending items and economic-cycle effects — is seen at 1.7 percent through 2021, widening from its current level instead of improving.
9 a.m. EU's foreign affairs ministers meet in Luxembourg to discuss migration, Libya, Macedonia, Venezuela
9 a.m. Single Resolution Board conference in Brussels
Deadline for EU governments to submit their draft budgets for next year to the European Commission
Opposition parties in Bulgaria are due to file a no-confidence motion against the government, which is under pressure because of the brutal murder of an investigative journalist
FT-ETNO telecoms conference in Brussels
EU trade chief Cecilia Malmstrom meets German Economy and Energy Minister Peter Altmaier in Berlin and delivers a speech on "European trade policy in turbulent times" at Humboldt University