Brussels Edition: Brexit Blues
(Bloomberg) -- Welcome to the Brussels Edition, Bloomberg's daily briefing on what matters most in the heart of the European Union.
Here we go again. U.K. Prime Minister Theresa May is back in the House of Commons later today  for a vote on changes to the Brexit strategy. May is supporting an amendment to ditch the Irish border backstop — the most contentious part of the deal — as she struggles for a compromise all sides can support. That move could be a disaster, one EU diplomat told us. Whatever happens, expect a bit more clarity over what might happen next. But probably not enough, in the EU's eyes.
Russian Laundering | One of the guests appearing before the European Parliament's special committee on financial crime this afternoon for a money laundering hearing involving Russians is Bill Browder. The financier driving allegations against Danske Bank and Nordea Bank told Bloomberg last week that he'll turn to the U.S. legal system if he hits a wall in Europe.
Fake News | At a press conference today, the EU's cybersecurity and digital commissioners will talk about efforts to combat misinformation on tech platforms ahead of the bloc's elections this spring. Google and Facebook say they'll roll out transparency tools for political ads in Europe. EU officials are threatening legislation if those tools are deemed insufficient.
Cambodian Duties | Save for last minute objections, the European Commission today will start the process of suspending Cambodia's tariff-free access to the EU's market, citing "serious and systematic violations" of human rights. It will be a 12-month-long procedure, giving the Asian nation the chance to improve and avert a severe economic blow. 
Efficient NATO | Talk about quick work. NATO ambassadors approved the protocol for the accession to the alliance of the newly named North Macedonia, kick starting the process for the Balkan state's admission to the club. Can't say the same about the EU, which yesterday pushed back — again — the launch of the funding vehicle to work around Iran sanctions. 
Merkel's Wardrobe | "For a man, it's no problem at all to wear a dark blue suit a hundred days in a row, but if I wear the same blazer four times within two weeks, the letters start pouring in,'' Angela Merkel says in an interview with German newspaper Die Zeit, touching on feminism, immigration, socialism and … her wardrobe.  A recommended read. 
Don't Tax | In a letter to EU finance ministers, chief executive officers from some of Europe's largest tech companies, including Booking.com, Spotify and Zalando, have urged the bloc's governments not to tax digital revenues. While the chances of an EU-wide tax are slim, several countries have announced plans to go it alone with national tech taxes.
Siemens Blunder | Even Siemens CEO Joe Kaeser appeared to suggest that EU's competition chief Margrethe Vestager is "technically right" in opposing his company's controversial merger with Alstom. Blunder or not, EU's antitrust guardians cited the tweet to justify their continuing resistance to political pressure to approve the mega deal.
Terrorist Connoisseurs | Matteo Salvini fired a new broadside at Emmanuel Macron as he seeks to knock the French president off balance ahead of May's European parliamentary elections. Terrorists have been going "around France drinking Champagne and visiting the Eiffel Tower," the Italian populist leader said, without providing any specific examples of these extremist connoisseurs with a keen interest in industrial design.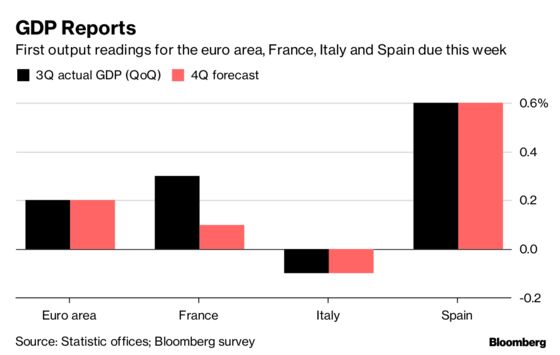 9 a.m. Financial Services conference with Barclays Chairman John McFarlane, Santander Chairman Shriti Vadera, Axa Chairman Denis Duverne, UniCredit CEO Jean Pierre Mustier, Cyprus Central Bank executive board member Constantinos Herodotou 
9:30 a.m. EU top court gives non-binding opinion on Belgium's questions about EU-Canada trade agreement
11:30 a.m. Press conference by EU Commissioners Julian King and Mariya Gabriel on the code of practice signed by online platforms to fight disinformation
4 p.m. European Parliament hearing on Russian money laundering with Hermitage Capital Management CEO Bill Browder 
7 p.m. ESM Managing Director Klaus Regling speaks on "The Role of the ESM in a Deepened Economic and Monetary Union" at the German state of North Rhine-Westphalia's Brussels office
U.K. House of Commons votes on Brexit deal options
EU Competition chief Margrethe Vestager gives keynote speech at Eurocommerce Leaders dinner in Brussels
Deadline for EU member states to respond to EU Commission's proposal to begin process for revoking Cambodia's trade privileges
European Parliament's Civil Liberties Committee votes on bill adding U.K. to list of countries whose nationals do not need a visa to enter EU. It will be applicable once the U.K. becomes a non-EU country and if EU citizens travelling to the U.K. are also exempt from visa requirements