Brussels Edition: Back to Work
(Bloomberg) -- Welcome to the Brussels Edition, Bloomberg's daily briefing on what matters most in the heart of the European Union.
Happy New Year and welcome back to the Brussels Edition. The holidays may be over, but the capital of Europe isn't quite running at full steam yet. Still, there's a Brexit deal to get done (or not), European parliamentary elections to contest and a series of top jobs up for grabs as soon as next month. All that as trade disputes and  falling stock markets put the European economic recovery on shaky footing.

Brexit Beckons | The U.K. is due to leave in less than three months, yet the deal reached between the EU and Prime Minister Theresa May has no better odds of gaining parliamentary consent than it did before the holidays. May will continue talks with European Commission President Jean-Claude Juncker and other leaders in coming days to eke out helpful words. Here's your Brexit catchup.
Romanian Retreat | The European Commission's top officials will head to Romania this week as the country assumes the EU's six-month rotating presidency for the first time since it joined the bloc. The relatively new member will take over at a critical juncture for the union, and will be called to manage challenging issues such as the U.K.'s impending departure and bloc-wide polls that could see populists make gains. EU Council President Donald Tusk said he was confident Romania would deliver, even as others voiced doubts.
Top  Jobs | On top of picking new presidents for the European Commission, the European Council and the European Parliament later this year, EU leaders will be asked to select a successor for Mario Draghi at the helm of the European Central Bank. The race is wide open and any appointment is bound to be part of broader horse trading. But before all that, euro-area finance ministers are expected this month to call for candidates to succeed ECB Chief Economist Peter Praet.
Polish Standoff  | Poland accused the EU of conducting hostile policies toward its largest post-communist member and urged changes to the bloc's functioning following the parliamentary elections in May. Foreign Minister Jacek Czaputowicz said on Saturday that EU institutions are constantly working against the Polish government, amid a long-lasting battle over what Brussels considers an erosion of democratic standards and threats to the rule of law.
French Forecast | French Finance Minister Bruno Le Maire said the government is sticking to its growth forecast of 1.7 percent in 2019, even as he warned of risks from the international environment and the Yellow Vests protests in France. In an interview on Europe1 radio yesterday, Le Maire said the government won't go back on its landmark tax decisions, in particular the abolition of a wealth tax that many Yellow Vests protesters say should be reinstated.
Hungarian Protests | Hungarian anti-government demonstrations showed no sign of abating after almost a month of rallies that have snowballed from workers' demands to scrap a law on more overtime hours to a call for the end of Prime Minister Viktor Orban's illiberal rule. After a holiday lull, thousands of people gathered in Budapest on Saturday. But while the demonstration appeared to be the biggest yet in a series of protests in the past month, Orban's Fidesz party remains Hungary's most popular political group by far.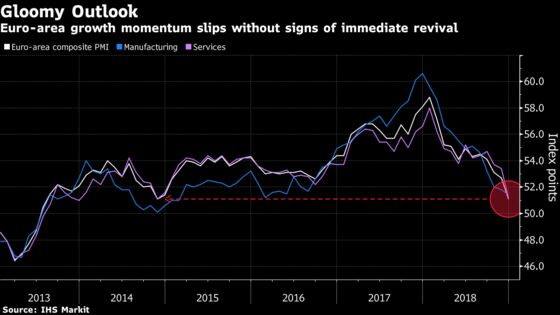 The euro-area economy is on a weak footing as it faces perilous uncertainties in 2019, from home-grown political difficulties to global stock-market turmoil and trade wars. 
The first significant batch of data released at the start of the year showed inflation was lower than expected in December and confirmed earlier reports that growth in manufacturing and services eased to the weakest since 2014.
EU Commissioner for Economic Affairs Pierre Moscovici meets French President Emmanuel Macron in Paris
11 a.m. Eurostat to release November retail trade reading
ECB Vice President Luis de Guindos, EU Commission VP Valdis Dombrovskis attend conference in Riga with other central bankers to mark fifth anniversary of Latvia's euro membership