Brussels Edition: Apple Day
(Bloomberg) -- Welcome to the Brussels Edition, Bloomberg's daily briefing on what matters most in the heart of the European Union.
Apple Chief Executive Officer Tim Cook descends on Brussels and this time he may get a warmer welcome. His company has been at loggerheads with the EU over taxes, but today he's headlining an EU privacy conference, where he's set to expand on Apple's commitment to data security. Several months after the bloc's new privacy rules came into force, Cook is seeking to distinguish Apple from Silicon Valley rivals Google and Facebook, both under government scrutiny for recent breaches.
Italian Envy | "We're the most envied government in Europe," Italian Prime Minister Giuseppe Conte said with a smile in an interview with Bloomberg News yesterday, citing popular support. The Italian premier, who's in Moscow today, insisted his government has no "Plan B" for its budget and would not change its substance, despite a rebuke by Brussels. Still, he does keep a close eye on the 10-year spread between Italian and German bond yields, a barometer of market confidence.
Tory Wars | U.K. Prime Minister Theresa May's Cabinet meeting descended into open conflict over her Brexit plans. Doubts in Brussels over whether May controls her government mean a deal won't be reached until the U.K. budget is approved, an EU official told us. Meantime, we heard the Commission is preparing to release so-called delegated acts by the third week of November, asking member states to authorize it to unilaterally amend legal acts to cushion the impact of a cliff-edge Brexit.
Last Straw | The European Parliament today will advance a draft EU law meant to help clean up oceans and seas by approving a proposed ban on single-use plastic items such as plates, cutlery and straws. The assembly may also follow its environment committee's recommendation to widen the scope of the ban to include very lightweight plastic bags and fast-food containers made of expanded polystyrene.
Shielding the WTO | High-level officials from 13 countries will gather in Ottawa today to discuss ways to buffer the World Trade Organization against President Donald Trump's America First trade agenda. Trade representatives from the U.S. and China were not invited to the meetings, which are set to produce a plan that targets areas to reinforce and modernize the WTO.
Head-to-Head | Ireland's Sharon Donnery and Italy's Andrea Enria were recommended to the ECB as the next heads of banking supervision after an EU parliament hearing. The ECB's governing council now has to decide on a single candidate. While Enria is seen as the more senior figure, Donnery's nomination would help with the central bank's goal of increasing gender diversity.
Tech Tax | The Austrians promised, and they delivered. The rotating presidency of the EU circulated a draft of a compromise proposal for the imposition of a 3 percent tax on the revenue that tech giants make within the bloc. But an EU government official told us it's not just the Irish pushing back against the levy championed by French Finance Minister Bruno Le Maire and that the required unanimity isn't likely to be achieved by year-end.
Anti-EU Call | Hungarian Prime Minister Viktor Orban called for nationalist political forces fighting against an increase in immigration into the EU to unite before the bloc's parliamentary elections next year. A standard bearer for euroskeptic forces challenging the EU's liberal, democratic values, Orban is proselytizing his anti-immigrant politics as populists from across EU vie for more influence.
Spanish Lessons | With all the talk about Italy, Spain's spending plans have had less attention. The country's socialist prime minister is trying to put together a budget that would include an increase in social spending and higher taxes on richer individuals and corporations. While these might not be the best way to strengthen the economy, they show at least that it's possible to offer a left-wing budget while not making a mockery of the EU's rules, writes Ferdinando Giugliano.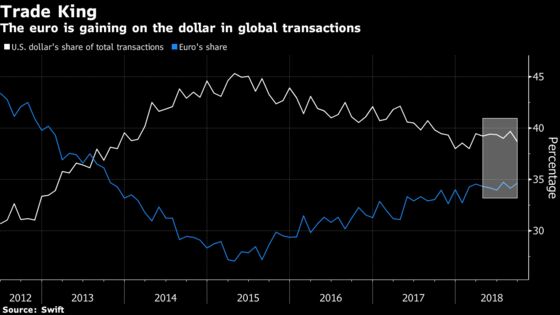 Watch out dollar, the euro is coming. The single currency — which relinquished top spot as the most used currency for global transactions five years ago amid the European debt crisis — is gaining ground, according to Swift data released yesterday. Washington's trade upheaval has given rise to renewed pressure to reduce the share of international trade conducted in U.S. dollars and it may be bearing fruit as only 4 percentage points now separate the greenback and euro's market share.
9 a.m. NATO Secretary General Jens Stoltenberg holds a press conference ahead of exercise Trident Juncture 2018
10 a.m. Apple CEO Cook headlines a privacy conference in Brussels, likely taking the opportunity to tout his company's products and how they protect users' data. Google and Facebook executives will also attend
EU Council President Donald Tusk addresses European Parliament in Strasbourg on EU Summit outcome
EU Parliament votes on a new law to forbid the sale of single-use plastic products within the EU from 2021
EU Commission President President Jean-Claude Juncker holds a joint press point with Colombian President Ivan Duque
WTO reform ministerial meeting in Ottawa
Italian Prime Minister Giuseppe Conte visits Moscow