Brussels Edition: After Merkel, What's Next?
(Bloomberg) -- Welcome to the Brussels Edition, Bloomberg's daily briefing on what matters most in the heart of the European Union.
After Angela | It's too early to say what Merkel's eventual exit will bring. Her steady hand could be missed if things in the EU turn sour. Yet clarity on her succession could help unlock the stalemates caused by her current weak position. For German Marshall Fund fellow Corinna Horst, what Europe needs after Merkel is "a fundamental change in political leadership," to move things along. As for Brexit, don't expect any shifts from Germany there, European Policy Centre's Janis Emmanouilidis says.
Growth Figures | The euro-area economy is having a bumpy ride this year, from bad weather and French strikes to trade disputes and disruptions in German car production. Data to be released by Eurostat today will probably show third quarter expansion of 0.4 percent, the same as the previous three months. The issue is whether the more recent signs of weakness seen in PMI and confidence are temporary or something more permanent.
Transatlantic Tango | On the trade front, attention shifts to a meeting in November between U.S. Trade Representative Robert Lighthizer and his EU counterpart, Cecilia Malmstrom, after the European Commission said both sides held "constructive" talks last week on a deal to open markets. For the EU, the main aim still remains keeping talks going to stave off the threat of additional U.S. automotive tariffs.
Tech Tax | An internal memo dated Oct. 29 we've obtained shows that the two main "open issues" in the discussions on imposing a 3 percent levy on the revenue that tech giants make within the EU are whether revenue from the sale of user data should be excluded and whether the new directive should have a fixed expiration date. The Austrian Presidency of the EU hopes to reach a deal by year-end. The U.K. unveiled its own tech taxyesterday. Your move, Brussels.
Portugal's Budget | Amid all the doom and gloom about Italy's budget, here's some news to cheer up the fiscal hawks among you. Portuguese Finance Minister and Eurogroup President Mario Centeno is set to get initial parliamentary approval today for his 2019 budget, in which he targets a 0.2 percent shortfall — Portugal's narrowest deficit in four decades of democracy. It's the minority Socialist government's fourth and final budget before facing a general election next year. 
Austerity Over | In other budget news, U.K. Chancellor of the Exchequer Philip Hammond declared an end to austerity and raised the country's growth forecast for next year. In Brussels, EU officials are eagerly awaiting the budget vote saga to unfold, seeing potential approval as a mandate for Theresa May to strike the compromises necessary for a Brexit deal.
Plane Crash | The European Commission refused yesterday to say whether Lion Air or any other Indonesian airlines might be put back on the EU blacklist of unsafe carriers. The crash of a Boeing Co. jetoperated by Lion Air with 189 people on board put a spotlight on the commission's 2016 removal of the airline from its blacklist, and its decision earlier this year to allow all Indonesia-based carriers to fly in the bloc.
Terror Short | In the most horrific shorting tactic against a listed company ever, here's how an electrician came up with an odd plot to make $607,933.50 by simulating an Islamic State attack against Borussia Dortmund's squad.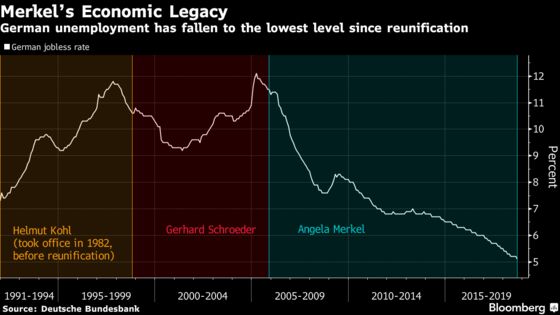 Say what you want about Merkel's tactics for keeping the euro-area together, or her energy and foreign policy decisions, but when it comes to the economy, her recordspeaks for itself. In the past 13 years of her reign, the jobless rate in Germany has declined to record lows, a trend that was barely interrupted even during the global financial crisis.
11 a.m. Eurostat to release 3Q GDP reading for the euro area 
U.K. Prime Minister Theresa May holds weekly Cabinet meeting, with Brexit and yesterday's budget statement likely to feature
Portuguese parliament set to approve 2019 budget in initial vote
Informal meeting of EU's transport and environment ministers in Graz, Austria