Brussels Edition: A Cry for Unity
(Bloomberg) -- Welcome to the Brussels Edition, Bloomberg's daily briefing on what matters most in the heart of the European Union. Sign up here to get it in your inbox every weekday morning.
European Commission President Jean-Claude Juncker's final State of the Union speech will be a rallying cry for unity. His main points: urging governments to overcome differences over migration, banking rules and the Brexit-induced hole in the bloc's budget. But the address to lawmakers risks being overshadowed by a bitter debate over Hungarian democracy. Juncker will also unveil some 18 policy proposals and initiatives, while reminding his audience of the 100-year anniversary of the end of WWI. Given his tendency to surprise and sometimes go off-script, EU-watchers may want to tune in at 9 a.m. CET.
Tackling Terror | Juncker will formally propose new rules forcing tech platforms to expunge Islamic State and other terrorist propaganda from their sites within an hour of a request by local law enforcement or face fines. While companies like Google, Facebook and Twitter have made strides in catching, removing and sometimes even preventing such content from reaching sites, the EU says some need to do more. In severe cases, tech firms could be fined as much as 4 percent of annual revenue, according to people with knowledge of the proposal. 
Orban Verdict | It's decision time for the European Parliament on whether to recommend unprecedented sanctions against Hungary for its democratic lapses. Prime Minister Viktor Orban yesterday predicted the vote going against him after the European People's Party decided to allow its lawmakers to vote their conscience. If it does, EU governments then have to decide whether to trigger a treaty provision that could ultimately lead to the suspension of Hungary's voting rights.

Creators vs Tech | Tech giants face another test in Strasbourg today when European lawmakers vote on how to amend the commission's controversial copyright proposal. News publishers, music and video rights holders say they want to be compensated fairly as more of their content spills online, while Internet activists worry the rules could throw a wrench in how people share and upload material. 

Brexit Summit | It's really happening. The U.K. and EU are preparing for a special summit to sign a Brexit deal in November and the meeting could be announced within days, Tim Ross and Ian Wishart report. While negotiators still need to resolve key disagreements, the EU is readying a one-off gathering in mid-November so leaders can formally agree on the terms of the divorce.
Tax Troubles | Malta's finance chief poured cold water on European efforts to strike a deal on taxing digital companies by the end of the year, saying such a levy should be agreed globally. Speaking to Bloomberg, Maltese Finance Minister Edward Scicluna said that a tax on tech giants requires time to address all the complexities and would be best dealt with at an international, multilateral body in the same way as other worldwide corporate tax rules.
Not Forgotten | Google told EU judges that France's privacy watchdog is "out on a limb" for relentlessly pushing the search engine giant to allow EU citizens a global right to be forgotten online. In a hearing at the bloc's top court, Google said extending the scope of the four-year-old EU right across the world would "unreasonably interfere" with people's freedom of expression and information and lead to "endless conflicts" with countries that don't recognize the right to be forgotten.
Iran Doubts | Europe will have no choice but to comply with U.S. sanctions on Iran, according to Javier Solana, a former NATO secretary general and early advocate of the nuclear deal abandoned by Donald Trump. Solana, who was a long-time promoter of diplomacy with Iran as the European Union's foreign envoy, said in an interview that the U.S.'s international financial clout means EU efforts to get around sanctions are doomed to fail.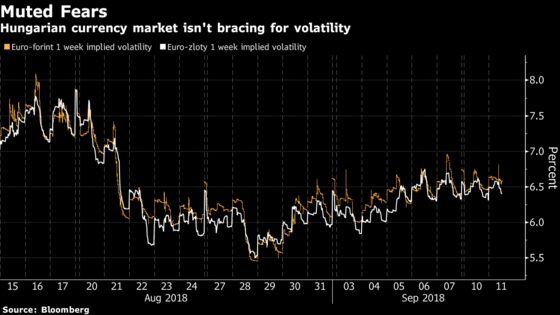 Despite the upcoming vote in the European Parliament, the forint rose against the euro, with traders looking past Hungary's faster-than-expected inflation and tensions with the EU, following exchange-rate gains across most of emerging Europe amid improved investor confidence.
9 a.m. Juncker delivers state of the union address in Strasbourg
11 a.m. Eurostat to release July industrial production data for the euro area
12 p.m. European Parliament in Strasbourg votes on whether to recommend triggering Article 7 for the perceived threat to democracy and the rule of law in Hungary
EU top court rules in a case seeking to clarify the rights of airline passengers to get compensation in case of delays or cancellation
The European Commission will formally unveil new legislative proposals for tech firms to remove terror content almost instantaneously or face fines if they fail to do so
The European Parliament votes on controversial copyright legislation that could force web platforms to reimburse news, music and video rights holders for displaying their content
EU 27 government envoys meet in Brussels to discuss Brexit
High-level meetings on Ukraine Gas Transit planned in Brussels with Russia and Ukraine