Brushing Off the Boom, Sweden Opposition Braces for Next Crisis
(Bloomberg) -- Sweden is wasting the longest period of economic growth in at least four decades.
That's the view of Ulf Kristersson, the leader of the center-right Moderate Party who's seeking to become the next prime minister after the election on Sept. 9.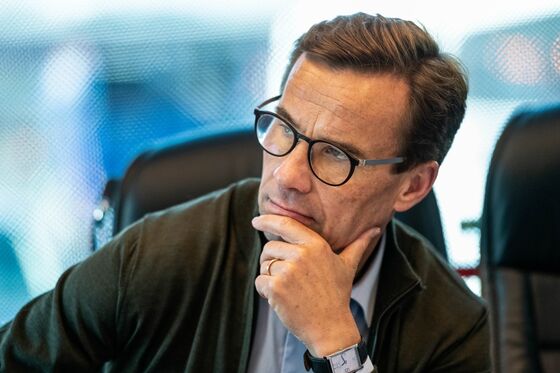 Kristersson and his four-party alliance are facing a battle to unseat the current Social Democratic-led government, which despite declining support can point to an economy that's expanding at more than a 3 percent rate, unemployment at the lowest in more than a decade and large budget surpluses.
While economic superlatives abound, Kristersson and his allies are warning that Sweden faces mounting problems unless a rise in crime can be halted and the social contract is repaired. A record inflow of refugees and migrants over the past few years has stoked anti-immigration sentiment, leading to the emergence of the Sweden Democrats as a political power.
"We have big problems and it's better to deal with those problems when you're in an economic boom," Kristersson, 54, said in an interview last week. "We have to carry out reforms now, in order to prepare for the next downturn. This government has wasted that opportunity."
The Social Democrats are also recognizing the danger that growing hospital queues and rising crime rates pose to their continued rule. They are promising increased spending on the welfare state and law enforcement while calling for tax increases on capital and banks.
That's far from the recipe of Kristersson's party. It wants to cut taxes and lower benefits to make more people choose work over welfare. Like the Social Democrats, it's calling for more money to the police and defense to shore up both internal and external security.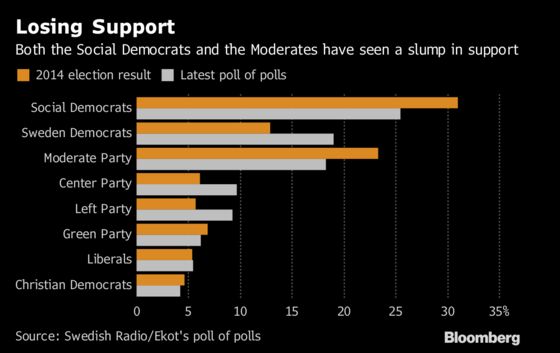 Elisabeth Svantesson, the fiscal policy spokeswoman for the Moderates, says Sweden is facing a critical time where it needs to repair the Swedish people's trust in its government.
"If we don't do something now it'll get worse," she said. "Sweden is in a crisis situation where safety isn't working. We have cars burning, sexual violence is increasing and welfare isn't working in the midst of an economic boom."
Svantesson warns that Sweden could enter a recession that's "significantly deeper than people think today" and given that the central bank currently has its key interest rate at a record low, more responsibility will fall on the government should a new crisis hit.
"There are many potential sources of turmoil, it could be the housing market, it could be a global recession," she said. "Fiscal policy will need to play a bigger role."
The conservatives will face a tough choice of whether to cooperate with the Sweden Democrats. Neither of the traditional center-right or center-left blocs will get a majority, handing the power-broker role to the nationalist party which has vowed that it won't back any government that doesn't give in to its demands on immigration.
After an inflow of 600,000 migrants and refugees over the past five years, most of the Swedish political parties are now advocating for stricter restrictions on inflows of foreigners.
Kristersson's party has moved closer to the Sweden Democrats and now advocates for tight controls as well as longer prison sentences and more deportations of foreign criminals. But it has rebuffed any direct support or cooperation with the party due to its neo-nazi past.
"No one will win the election," Svantesson said. "But if the Alliance becomes bigger than the red-green bloc, then I count on us forming a government."
The Moderates don't exclude the possibility that they'll try to form a minority government on their own, even without the center-right Alliance parties. In that case they would rely on forming majorities with different parties in different policy areas.
"It's not like Sweden can't handle minority governments," Svantesson said. "It's the budget that needs to be passed, and then there are many different issues where you have to turn wherever you have friends."
Kristersson has said that he would like to invite all parties, including the Sweden Democrats, to talks on migration policy, hoping to extend a temporary law and push down immigration numbers lower than today. The party is also prepared to go ahead with overhauling the tax system without the biggest party in parliament, the Social Democrats.
Kristersson has been active in the Moderates since the late 1980s. He was a minister in the former Alliance government between 2010 and 2014, and before that he was a local Stockholm politician. He replaced party leader Anna Kinberg Batra last year to revive support.
"If we're able to get an agreement on lowering income taxes, especially for people with low incomes who risk becoming dependent on benefits, then that would be great," Kristersson said. "We can't condition our policy on that the Social Democrats pull themselves together. We will pursue our policy anyway."