Brown Sees Easy Powell Confirmation With 'Small Handful' of Noes
(Bloomberg) -- Federal Reserve Chairman Jerome Powell should easily win confirmation to a second term as head of the central bank, Senate Banking Chair Sherrod Brown said Tuesday.
Brown said he expected Powell would be confirmed by roughly the same wide margin as he was in January 2018. In that 84-13 vote, eight Democrats and independent Senator Bernie Sanders joined four Republicans in opposition to Powell.
"I don't see more than a small, small handful of 'no' votes on the committee, and I can't imagine there are that many on the floor," Brown said in an interview after the Banking panel held Powell's confirmation hearing. "It was a pretty predictable hearing."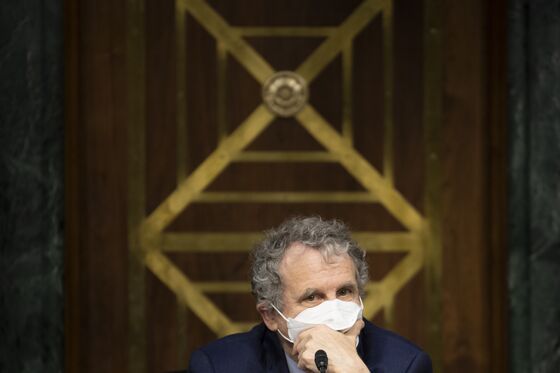 President Joe Biden nominated Powell for a second term as chair and picked Fed Governor Lael Brainard to serve as vice chair; her confirmation hearing is scheduled for Thursday. Biden is also expected to soon nominate three new governors to fill remaining vacancies.
Republican Senator Richard Shelby of Alabama voted for Powell's confirmation in 2018, but said after Tuesday's hearing that he was undecided this time.
"They missed the boat on inflation," Shelby said of the Fed. Still, he predicted Powell would be confirmed. "The question is how much support he gets."