Life in Britain Isn't Going Back to Normal Anytime Soon
(Bloomberg) -- Boris Johnson's government warned Britons they face a prolonged period of social and movement restrictions as officials struck a downbeat tone on the chances of a swift return to life as normal.
"We're going to have to do a lot of things for quite a long period of time," Chief Medical Officer Chris Whitty said at a televised press conference on Wednesday, when asked when a lockdown imposed on March 23 might be lifted. "This disease is not going to be eradicated, it is not going to disappear."
The U.K. will have to maintain some forms of social distancing until a vaccine or effective treatment for Covid-19 are developed, both of which are unlikely this year, he said. Standing alongside Dominic Raab, who is deputizing for Johnson as the prime minister recovers from the virus, Whitty also said the number of coronavirus deaths will not drop sharply, even though the curve of transmission is flattening.
The stark assessment contrasts with a mood of optimism running through the daily government briefings in recent days, as ministers referred to falling hospitalization rates and a slowing death toll.
The latest figures show 18,100 people in Britain have died from the virus in hospitals -- edging closer to the 20,000 the government said it would consider a good result -- even before non-hospital deaths are included.
Still, officials have said the U.K. is entering or at the peak of the virus, and that's put pressure on the government to explain how and when it will start to relax the lockdown. Whitty said the key will be figuring out how to ease restrictions while keeping the so-called R number, or transmission rate, below 1, meaning that each Covid-19 case is passed on to less than one other person.
Ministers will have to consider a variety of options, Whitty said, while also considering the impact of non-Covid deaths and health care risks stemming from the economic and social disruption caused by the lockdown.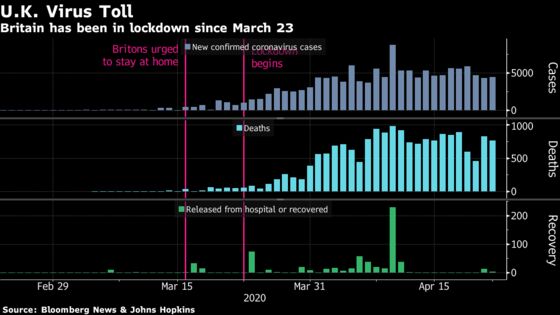 Earlier, Health Secretary Matt Hancock said the U.K. is planning widespread tracing of coronavirus patients and the people they meet as part of its exit strategy -- though he also warned infection rates are still too high for the program to work.
Hancock told Parliament a National Health Service app to assist with the so-called track and trace of cases is in "beta trials" which are "going well." The aim is to have a system in place within weeks, he said.
Ministers have faced criticism since U.K. health authorities abandoned community testing and contact tracing on March 12 after cases outstripped testing capacity and officials conceded the pandemic could no longer be contained. Countries including South Korea have been praised for using widespread contract tracing to limit the impact of the virus.
"We are ramping up our testing capacity and our capacity for contact tracing in a matter of weeks, and we will have it ready to make sure that we can use that as and when the incidents of transmission come down," Hancock told lawmakers. "Test, track and trace is a critical part of keeping the spread of this virus low."
The introduction of the program is tied to the rate of transmission coming down from current levels to ensure its effectiveness, rather than timed to coincide with a review of lockdown measures that's due in just over two weeks' time, he said.