British Defense Chief Who Often Cites Churchill Skips His Hero
(Bloomberg) -- U.K. Defense Secretary Gavin Williamson often jumps at the chance to bring up Winston Churchill, the legendary World War II leader who is a role model for many Conservative politicians.
Williamson has given a speech from Churchill's offices; been photographed in front of wartime fighter planes; and mentioned his hero twice in a policy speech on Monday.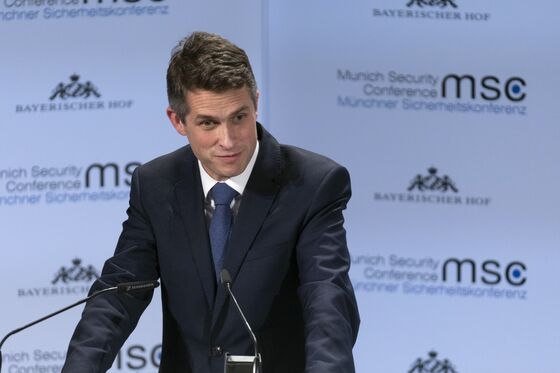 But the man with the cigar was conspicuously absent when Williamson, 42, stood up to talk alongside his German counterpart about what military cooperation will look like when the U.K. quits the European Union.
In fact, he glossed over the war entirely. World War II is often invoked by Brexit backers as a period when the country was at the height of its powers and Britons pulled together, stiff upper lips all round, to overcome Nazism.
"We are proud, very proud of our deep and long friendship with Germany," Williamson told an audience of global leaders at the Munich Security Conference on Friday. "Two hundred and sixty years ago, we fought side by side at the Battle of Minden. Since then, it is fair to say that our partnership has evolved."
"There've been ups and downs," Williamson concluded, "but it has got a lot better."