Why the British Car Industry Urgently Needs a Battery Gigafactory
(Bloomberg) -- The U.K. needs to move fast to attract a battery gigafactory, because there's a lot of competition for such clean-energy-based investments.
Europe's fourth-largest carmaker could harness its Formula One racing industry and top universities to attract a large-scale site to supply builders including Tata Motors Ltd.'s Jaguar Land Rover, said Neil Morris, chief executive officer of the Faraday Institution, which funds research for the U.K. government. That may give it an edge over eastern European Union rivals and China.
"The constraint on the uptake of electric vehicles is likely to be supply of batteries as much as the public's appetite for them," Morris said Thursday in an interview in London. "Decisions are being made today by car companies as to what their fleet is going to be in a few years' time. A lot more of that will be electric, so they need to lock in battery supply now -- there's a sense of urgency."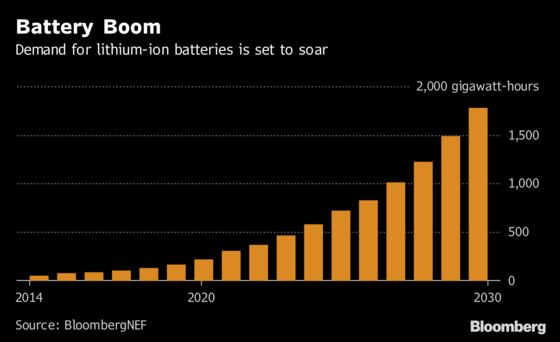 A gigafactory is a facility with a battery-making capacity of at least a gigawatt-hour, able to power about 20,000 electric cars. A year ago, the U.K. government set up a 246 million-pound ($320 million) program to capitalize on the nation's perceived strength developing battery technologies. That's meant to bolster the economy and in particular the automotive industry as Britain leaves the European Union and replaces aging coal and nuclear plants.
The country will face stiff competition from Eastern Europe and China, the world's biggest producer of electric vehicles, Morris said. The U.K.'s departure from the EU may hurt its prospects, as manufacturers are less likely to want to build facilities in a country outside of the trade bloc.
"We aren't competing on scale so we are going to have to be smarter and faster," Morris said. There's already an 80 million-pound government project to build a battery industrialization center in about two-and-a-half years, which will allow budding manufacturers build their batteries "at scale."
The real barrier in Europe has been competition from low-cost Chinese cells, according to James Frith, an analyst at Bloomberg NEF. In the third quarter in China, internal combustion engine vehicle sales dropped, while electric vehicles rose. However, as the electric vehicle industry grows there's a need for a localized battery industry in Europe.
There's a lot at stake. If battery makers don't set up in the U.K., "then there's a reasonable possibility that the car manufacturing will go elsewhere -- the battery manufacturing and car assembly will be close together," Morris said.
BNEF expects European battery demand to be greater than 25 gigawatt-hours by 2020, rising to more than 100 gigawatt-hours by 2025, so there's certainly room for more than one manufacturer.
"This limits the competition somewhat to other European countries and gives the U.K. a much better chance," Frith said. "When it comes down to it, one of the deciding factors is likely to be the level of subsidies the government is willing to provide."