Bridgewater Alum McCormick Jumps Into Pennslyvania Senate Race
(Bloomberg) -- Former Bridgewater Associates Chief Executive Officer David McCormick joined a crowded Republican primary field for the U.S. Senate in Pennsylvania Thursday, saying he's running to fight "socialist policies" that he said have led to a surge in inflation and threaten the American dream.
"I'm a self-made person," McCormick said in making his announcement on Fox Business on Thursday. "I don't owe anybody anything, and I would fight for the people of the Commonwealth of Pennsylvania to push back on these terrible policies."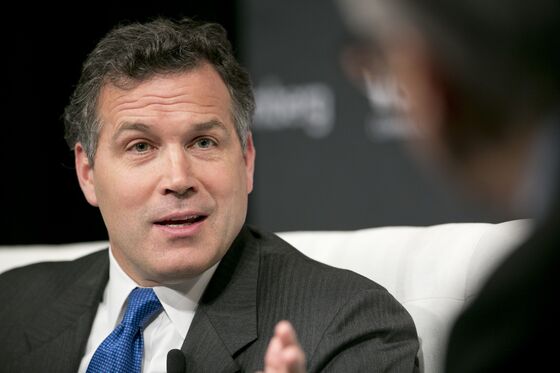 In a video posted on his website, McCormick portrayed himself as a fighter as a wrestler, soldier and business leader and said, "Now, I'm running for the U.S. Senate to fight the woke mob hijacking America's future."
McCormick, 56, who recently stepped down from the world's largest hedge fund to pursue the Senate bid, filed paperwork with the U.S. Federal Election Commission on Wednesday to become a candidate in one of the key races for deciding which party controls the chamber.
McCormick has tapped a number of former officials from former President Donald Trump's administration for his campaign. Hope Hicks, Stephen Miller and Cliff Sims, all of whom worked in the White House, will be official advisers.
Another Trump deputy national security advisor, Matt Pottinger, former adviser Kellyanne Conway, former White House Press Secretary Sarah Huckabee Sanders, herself a candidate for governor of Arkansas, and former Treasury Department spokesman Tony Sayegh are all supporters of McCormick's, but unofficial advisors, according to people familiar with the matter.
The GOP primary field to replace retiring U.S. Senator Pat Toomey includes celebrity physician Mehmet Oz, who announced his candidacy Nov. 30; Carla Sands, who was Trump's ambassador to Denmark; real estate investor Jeff Bartos; and conservative political commentator Kathy Barnette.
The Republican race was shaken up in November when Sean Parnell, the candidate former President Donald Trump endorsed, suspended his campaign after a judge sided with his wife in a custody battle. Trump hasn't said whether he'll make another endorsement in the race.
McCormick, a West Point graduate and Gulf War veteran, was a U.S. Treasury undersecretary for international affairs in President George W. Bush's administration. His wife, Dina Powell McCormick, is an executive at Goldman Sachs Group Inc. and a former deputy national security adviser under Trump.
Even before McCormick officially announced his candidacy, American Leadership Action, a Super PAC backing Oz, put up a web site and launched an ad calling McCormick "a friend of China" for his previous comments supporting the Asian nation and Bridgewater's billion-dollar fund there.
McCormick said on Fox Business that Bridgewater has done business in China but that he's well positioned to deal with China after negotiating with the Chinese throughout his business career.
"We need people that actually understand and can put forward a tough-minded set of policies with China," he said. "That's what I'll do, and that's what I'll describe in my campaign."
McCormick's nascent campaign is already drawing support from some on Wall Street.
Blackstone chief executive officer Steve Schwarzman is backing McCormick's bid, according to people familiar with the matter, who asked not to be named discussing information that isn't public.
Bob Steel, a partner at Perella Weinberg Partners who worked with McCormick in the Bush administration, compared McCormick's pedigree to that of Glenn Youngkin, the former Carlyle Group co-CEO, who beat Democrat Terry McAuliffe in Virginia's November gubernatorial election.
"Youngkin's campaign was less about career in finance, and more about his values, competence and ability to get things done," Steel said. McCormick has "had these tightrope-walking jobs -- front lines of military, intense time at Washington, and managing a big alternative investment firm, and he's always cool under pressure."
While McCormick's campaign web site allows people to give small donations, he plans to spend his own money throughout the campaign as well, according to a person familiar, who asked not to be named discussing information that isn't public. 
If he's looking for contributions for his own campaign, his Bridgewater colleagues might be a hard sell. The firm's employees gave 75% of their donations to Democrats in 2020 according to the Center for Responsive Politics, though they favored Republicans as recently as 2016.