Brexiteers Are Now the 'Saboteurs' at Key Tory Paper in Boost to May
(Bloomberg) -- It's a longstanding cliche of British politics that the country's right-wing tabloid press can make or break a political leader with a single headline. If that still holds, then Theresa May's predicament might not be as dire as it looks.
As Brexiteer politicians seek to topple the prime minister and scupper her agreement with the European Union, the paper that pushed hardest for a clean break with the EU is now rallying to her cause. The Daily Mail, influential in the Conservative Party's heartland and widely read by an older, rural demographic, has starkly changed its editorial tone on Brexit.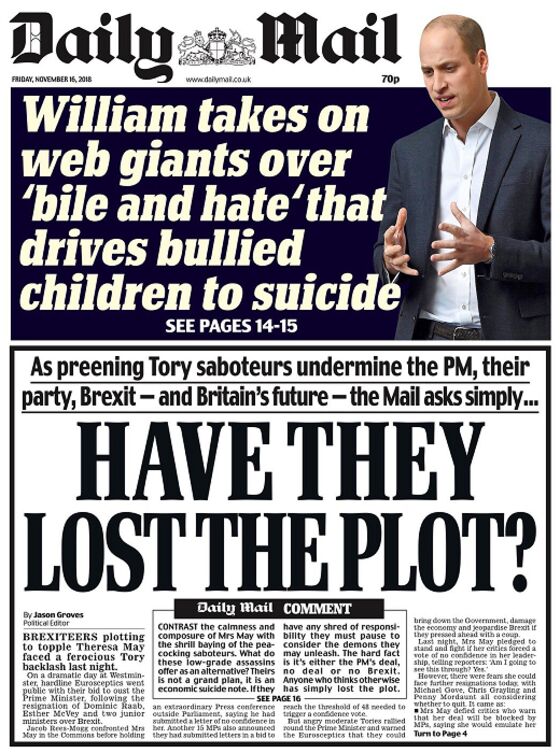 'Crush the Saboteurs,' the paper thundered last year when May called an election to strengthen her hand against politicians who opposed Brexit. This time around the Mail's 'saboteurs' are the Brexiteers in her own party calling for her removal. In a front page comment Friday, the Mail calls Jacob Rees-Mogg and his allies "low-grade assassins" whose plans for a harder Brexit represent an "economic suicide note."
The about-face reflects the replacement in September of staunchly anti-Europe editor Paul Dacre by the less EU-hostile Geordie Greig. The Mail is the second-most-read newspaper in the U.K. by print circulation, selling 1.2 million copies daily as of June 2018, according to Statista.
Other tabloids, including the Daily Express and Daily Telegraph, also portrayed May on Friday as a defiant leader acting in the national interest. Still, Rupert Murdoch's Sun is having none of it, saying the "stubborn" leader was doomed and it was time for her to "come clean with Britain."