Brexit or Not, EU's Poorest Nations Still See U.K. as Home to Higher Wages
(Bloomberg) -- Want the lowdown on European markets? In your inbox before the open, every day. Sign up here.
Uncertainty over the U.K.'s future relationship with the European Union isn't stopping citizens from the bloc's poorest nations arriving in search of higher pay.
Almost 40,000 people from Romania and Bulgaria, two of the EU's three least-affluent states, moved to Britain on a net basis in the year through September 2018. That's more than came from all the bloc's western countries combined. Data showed outflows from rest of the EU's east.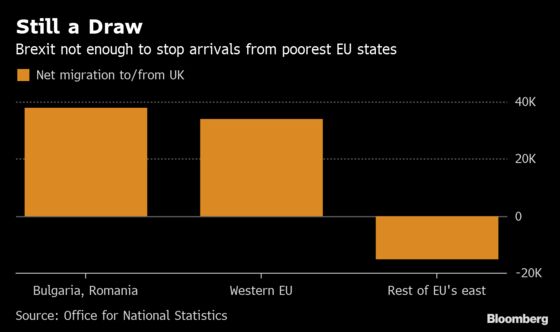 While the reasons are likely multiple and tricky to pin down, there's a huge gap in salaries between the U.K. and the two Balkan nations, where average gross wages are as little as $692 a month. On top of that, the pair joined the EU three years after most of the continent's ex-communist contingent, in 2007, and have had less time to catch up to the bloc's living standards.
"In Bucharest for an unqualified job you can earn as much as in Italy or Spain, maybe better than in Greece, but much less than in the U.K.," said Ciprian Dascalu, ING Groep NV's Bucharest-based chief economist for the Balkans. "And U.K. borders opened up later for these two countries."
About 370,000 people from both countries are employed in the U.K., compared with 869,000 from eight other eastern European states combined. In 2015, the average single person without children in Britain earned more than seven times the level in Bulgaria.