Brexit Triggers 30% Slump in German Exports to U.K. in January
(Bloomberg) -- German exports to Britain plunged in January, as the downward trend since the country voted to leave the European Union gathered pace.
Already curtailed by the economic impact of the coronavirus, Brexit helped trigger a nearly 30% slump in German exports to the U.K. in the first month of the year, according to a preliminary estimate published Tuesday by the Federal Statistics Office.
That was nearly double the 15.5% decline in 2020, which was the biggest annual drop since the financial crisis in 2009, according to the agency. German exports to the U.K. amounted to 67 billion euros ($80 billion) last year and have been dwindling since the 2016 Brexit referendum -- totaling 89 billion euros in the year before the vote.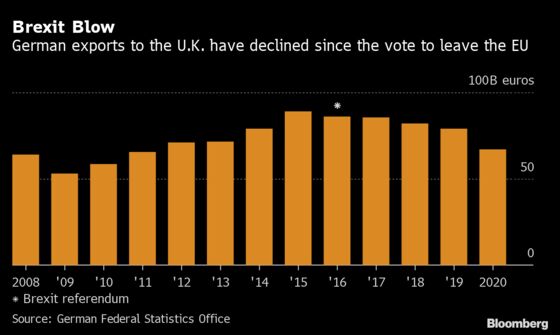 Since Britain left the EU's single market and customs union on Jan. 1, companies have had to adapt to a raft of new bureaucracy regulating cross-border trade. One of Britain's largest business groups said last month that many small companies are facing an "existential" threat as they grapple with obstacles Brexit has imposed on commerce.
Imports to Germany from Britain are also suffering, falling almost 10% last year, according to the preliminary German figures. The statistics agency will publish more complete data for German-U.K. trade on March 9.