Brexit's Bellwether Town Senses a Shift in Opinion
(Bloomberg) -- Basingstoke in southeast England is like many towns across the U.K. It's not the biggest or the smallest, it's got a typical mix of workers, ages and ethnic groups and it has the usual stores that you find everywhere.
It's that averageness that makes Basingstoke stand out when it comes to the political chaos Britain finds itself in over Brexit. The town voted 52 to 48 percent to leave the European Union -- bang in line with the U.K. as a whole. A day spent talking to 20 or so voters suggested there may be a small yet palpable shift toward reversing the decision.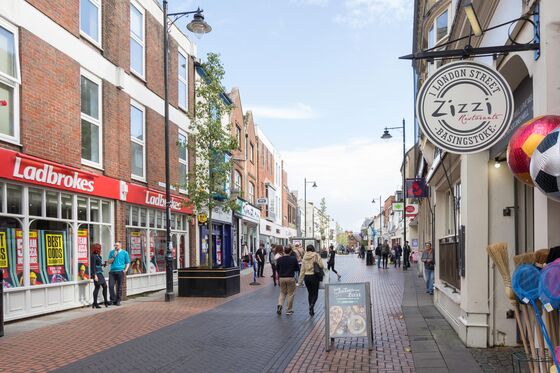 As the possibility of a redo of the 2016 referendum increases because of political paralysis 50 miles (80 kilometers) away in London, what the people of Basingstoke think might just offer an insight into the potential outcome. Away from the cat-and-mouse politics, the feeling of frustration has become more entrenched. But the snapshot of opinion also shows why so many ardent Brexit supporters are opposed to the idea of another vote. 
"A lot of people will have changed their minds by now," said Steph Wade, 22, who works in a clothes shop. She didn't participate in 2016, but would probably vote to remain in the EU if there were a second referendum. "If they were to put it to a revote I think it would go the other way."
Whether or not a new ballot is called, talk of what might happen is only drowned out by anger at the mess the country is in. There's also sympathy for beleaguered Prime Minister Theresa May as she faces the seemingly impossible task of getting the deal she struck with the EU over the finish line.
Those wanting to remain in the EU are adamant views have moved in their favor. Brexit supporters say they haven't changed their minds, but their sense of betrayal over the democratic process has deepened their resentment. Indeed, the question for many isn't whether they'd vote differently, it's whether they'd actually vote at all.
"I would not bother with politics ever again," said Kevin Lewis, 49, a warehouse worker born and raised in Basingstoke and a Brexit supporter. "You can't ask people to vote on something and because you don't like the outcome keep going back and keep going back. The people I know haven't changed their opinion, but I've heard some people say that they wouldn't vote again."
On a day in ordinary England in the run-up to Christmas, it's hard to overestimate the dismay in Britain over an issue that has hijacked the country as May battles to remain in power while being attacked from all sides.
Last week, she postponed a vote in parliament on her deal to give her time to build support, only to face a confidence vote by her own Conservative Party. She survived, though faces the same monumental challenge to get backing in the House of Commons with lawmakers split over where to go next. The vote will now take place in mid January, she indicated on Monday.
Bookmaker William Hill puts more chance of Britain revoking its request to leave the EU by the March 29 deadline than May winning the necessary backing in parliament. It reckons the likelihood of a second referendum is now 50-50, though the odds are fluid. May is opposed to holding another vote.
"Views probably will have changed and in my opinion people would go for remain because leaving is such a mess," said Jackie Little, 63, a semi-retired operations manager at a satellite communications company who lived in Basingstoke for a decade.
She voted against Brexit. "I knew it wouldn't be as simple as we were being told. Parliament is a mess at the moment. It's really embarrassing to see the way people are behaving," she said. "It's a shame."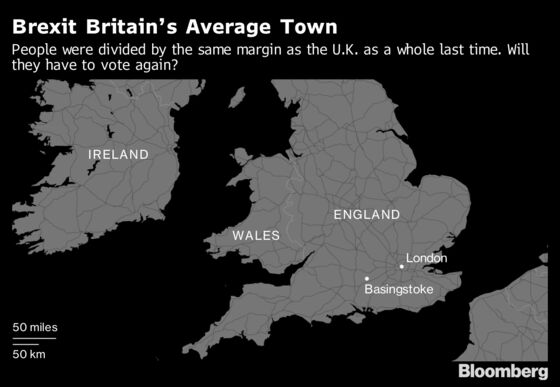 Located on a main railway route, Basingstoke emerged as a center of commerce in the 18th and 19th centuries and the town was home to the first store opened by draper Thomas Burberry in 1856. Transformed in the 1960s to provide homes for those spilling out of London, the area today houses multinational companies including Axa SA, Barclays Plc, BNP Paribas SA, Capita Plc and Sony Corp that are lured by its skilled labour pool.
Economically, it's not the wealthy commuter belt around London, but neither is it the more impoverished north or Midlands.
Its 114,000 population has the same percentage of 16- to 64-year olds as the U.K. average, though a greater proportion of them have jobs. It has roughly the same makeup of administrative and skilled trades people, while gross weekly pay is higher than other parts of England's affluent southeast.
Should Brexit happen on May's terms of leaving the single market to control immigration, it "will be to the financial detriment of the town -- I think it will cost us a lot of money," said Paul Taylor, 47, a pensions consultant at Standard Life Aberdeen who was born in Basingstoke and grew up in the town.
"I was remain in the first referendum and I'm just hoping there is going to be a second referendum to change the result," he said. "With what's going on now they are not really sorting anything out."
Taylor said "a few" of his colleagues who voted for Brexit have since changed their minds over the past two years, though other people interviewed said there was little to suggest it's been in droves. 
Wayne Stent, a 51-year-old plasterer, is outraged at the thought of having a redo, though would still turn out to vote for Brexit again. "It would go against everything that this country stands for," he said. "If we go back on it, you are going against democracy." Stent knows some people who have changed their mind, but most are bored with it and "just want to get it finished."
May has echoed that sentiment. In parliament on Monday, she reiterated her opposition to holding another referendum, calling it a breach of the electorate's trust. 
Retail worker Gillian Satwick said it's time to cut the prime minister some slack, but she voted to remain in the EU and sees no reason to leave. There are friends who are wavering, she said.
"Some have changed, some haven't," said Satwick, 62. And if there were another referendum? "I think you would get a different result."