Brexit Purist Rees-Mogg Hints He's Losing Faith in May
(Bloomberg) -- Jacob Rees-Mogg, the hardline Brexit backer who commands a group of Tory lawmakers, signaled his support for Prime Minister Theresa May is waning.
"I fear we're getting to the point where you wonder if the government really wants to leave at all," he said in a podcast for Conservative Home. Asked whether he had lost faith in May, he said: "That would be a harsh way of putting it."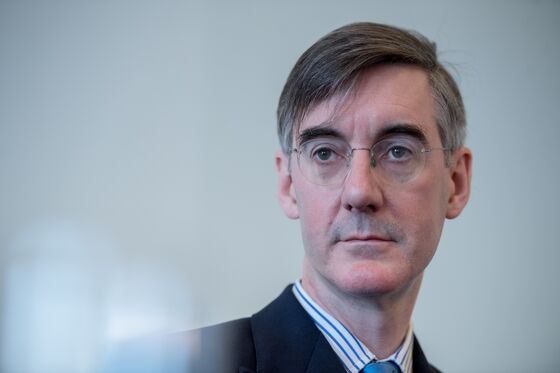 "I'm not going that far but I have doubts that what she says is still fine, and what she does is not delivering on what she says and that inevitably raises concerns," he said. "She needs to bring the two together."
Rees-Mogg, whose group of 60 lawmakers in theory has the power to trigger a leadership challenge, said a key European Union summit in June would be an "opportunity" for May to make her deeds match her words on Brexit.
Rees-Mogg has accepted a series of concessions on Brexit in the interests of getting the divorce delivered but he objects to the government's latest proposal on the Irish border, which would involve as a last resort keeping the U.K. tied to EU trade rules for years after the split.
He accused the government of being weak, urged it to show more "backbone" and to do more work to prepare for a "no-deal" scenario. He said he didn't think any pro-Brexit ministers should resign.
Rees-Mogg reminded listeners that May voted to remain in the bloc in the referendum two years ago, and said that made trust even more important.
"Trust is very important and it's very important that the government maintains faith with those who voted to leave," he said. Asked about her "customs partnership" idea, he was unequivocally critical: "I'm surprised the prime minister is plodding on with this not very satisfactory idea."
May's spokesman, James Slack, rejected the suggestion that the government wasn't committed to Brexit. "We are absolutely determined to take back control of borders, our money and our laws," he told reporters.