Instead of Backing Down, Brexit Hardliners Urge May to Ignore Parliament
(Bloomberg) -- Brexit hardliners in Theresa May's Conservative Party were supposed to be sweating by now.
Julian Smith, the chief whip, set out the case to Cabinet on Tuesday: If the purists don't vote for the prime minister's Brexit deal next week, they risk no Brexit at all. The trouble is, not enough of them believe him.
May's tactical move last week to give Parliament the power to postpone Britain's departure from the European Union initially looked like the moment the European Research Group of pro-Brexit Conservatives realized they would have to compromise. By giving Parliament a veto to prevent a no-deal Brexit, hardliners were left with the unpleasant choice of her deal or a delay.
In response, ERG member Edward Leigh publicly called on his colleagues to vote for the deal. The chairman, Jacob Rees-Mogg, began using more emollient language.
But, perhaps riled by reports that they were going to back down, ERG members now seem to have stiffened their resolve once more. In private conversations Wednesday, several argued that even if Parliament voted for an extension to negotiations, it wouldn't be binding on the government. May, they said, should simply ignore the vote, and take Britain out of the EU without a deal.
It's a case set out by ERG researcher Christopher Howarth. "Brexit cannot be stopped," he wrote on the BrexitCentral website on Tuesday. "If MPs hold their nerve, we are leaving the EU on March 29 without a permanent backstop."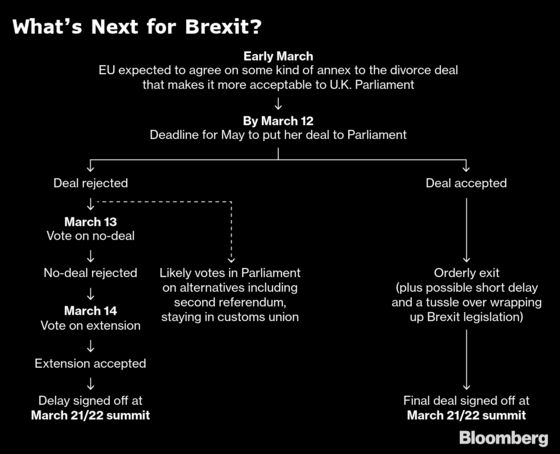 That's not the only article that Brexiteers have been sharing. They also pointed out Bank of England Governor Mark Carney's remarks on Tuesday that the U.K. was better prepared for a no-deal Brexit as evidence that fears about such a departure are overplayed.
To get her deal through Parliament, May needs to reduce the rebellion in Conservative ranks from more than 100 in January to the hard core of irreconcilables, made up of around 20 backers of a no-deal Brexit and six who oppose any kind of split. At that point, she would have a chance of securing the numbers she needs by relying on some Labour members of Parliament, too.
But one of those in charge of organizing Brexit-backers said the government would be doing well if it managed to keep the rebellion to only 50 lawmakers. They said the only thing that would change the calculation would be if Northern Ireland's Democratic Unionist Party endorsed the prime minister's deal. That would depend on Attorney General Geoffrey Cox getting something from EU negotiators over the Irish backstop issue that the DUP accepted. Talks so far are not going well.
In May's office, they make the point that Parliament is becoming increasingly muscular, and that every time MPs vote, they vote to soften Brexit. That's supposed to scare the hardliners, but it's not working.