Brexit Hangover Kicks In for EU Leaders Debating Budget Gap
(Bloomberg) -- Terms of Trade is a daily newsletter that untangles a world embroiled in trade wars. Sign up here. 
Twelve hours after the U.K. formally left the European Union, the bloc's poorer members gathered in an old Franciscan convent in southern Portugal to rally against a looming budgetary shortfall that's partly due to the loss of British contributions.
Brexit is deepening the rift between richer and poorer EU states as they clash on the bloc's trillion-euro ($1.1 trillion) budget for the next seven years. Poorer members are fighting to keep the hole created by Britain's departure from being filled by cuts to development funds.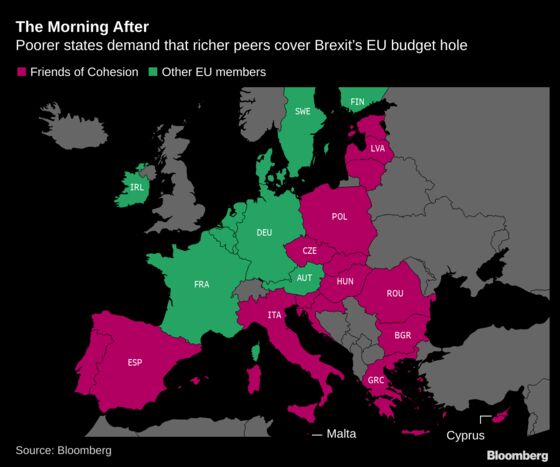 "This meeting is happening on a very special day as it's the first day in which the EU has just 27 members," Portuguese Prime Minister Antonio Costa said on Saturday in Beja. "It's important to give the clear message that the union will remain cohesive."
Saturday's meeting of the "Friends of Cohesion" group, which brought together 17 eastern and southern nations, will be followed by a Feb. 20 summit of all EU countries that will tackle stalled negotiations about the budget.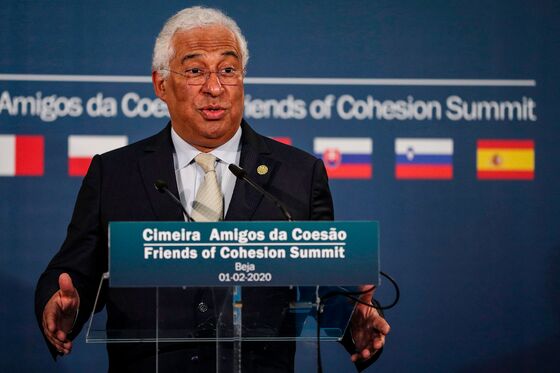 The seven-year budget is a cornerstone of EU policy that allots funding to help farmers compete against imports from the developing world and underpins projects that bind the union together. But agreeing on the amount of contributions and how to spend them is a regular source of tension between the net contributors, like the U.K. was, and those who get more than they put in.
Read more: EU Leaders Fail to Make Headway on Their Trillion-Euro Budget
The poorer nations, which see the so-called cohesion policy as a key tool to help them catch up with wealthier countries, now want their richer peers to contribute more money to make up for the U.K.'s withdrawal.
The Friends of Cohesion group reaffirmed on Saturday that the EU needs to keep cohesion policy funding at the current level, in real terms, according to a statement distributed by the Portuguese government.
"The EU should have resources for new goals, but not at the cost of instruments that are the foundation of its actions and have for years been functioning well," Polish Prime Minister Mateusz Morawiecki told PAP newswire in an interview on Sunday. "It can afford more."
Agreement on the size of contributions is needed before decisions can be taken on how they should be spent, and the conditions attached to the disbursements. EU spending amounts to about 1% of the bloc's gross domestic product.
In the discussion about the next budget, positions are very far apart, Hungarian Prime Minister Viktor Orban told reporters on Saturday. "We need not just days but months to make an agreement that could be accepted by everybody."