Brexit Hands Ireland's Varadkar Test of Lifetime. Will He Blink?
(Bloomberg) -- Will Irish Prime Minister Leo Varadkar blink in the battle over the backstop?
As the Brexit cliff edge nears, the 40-year-old faces a dilemma: sticking with the proposal that could propel the U.K. out of the European Union on March 29 without a deal would create the very thing it's meant to avoid -- a hard border in Ireland. So far, Varadkar is resisting Prime Minister Theresa May's demands for a time limit on the backstop or a unilateral exit clause.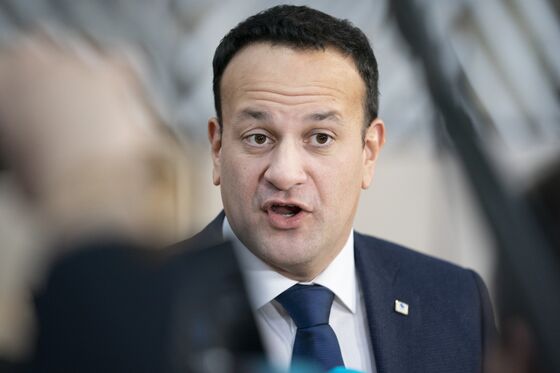 In Dublin, in discussions with officials and politicians who know and have worked with Varadkar, two camps quickly emerge. The first and far bigger group maintains he can't and won't back down. The second says he may have no choice if he wants to avoid economic disaster.
"At the moment, any form of weakness would be seized upon by Brexiteers, so there has to be an intransigent stance," said Lucinda Creighton, European Affairs Minister between 2011 and 2013 and now chief executive of Dublin-based Vulcan Consulting, which advises companies on government relations. "But, as we come closer to the edge, is it sustainable that Ireland would allow a no-deal to happen, something that could be catastrophic for parts of our economy? I'm not sure it is."
The need to keep the Republic of Ireland-Northern Ireland border -- long the scene of tense checkpoints and violent protest -- invisible has shaped Brexit talks and led to an impasse over the so-called backstop. The backstop ties Northern Ireland and the rest of the U.K. closely to the EU, potentially indefinitely, according to many British lawmakers.
Right now, there's no pressure on Varadkar to budge. The calculation in Dublin remains that the chances of the current deal being passed or some other version of soft Brexit are higher than the possibility of no deal, though the risks may be edging upwards.
Germany is said to be increasingly worried about the U.K. crashing out without a deal, and the Irish government's refusal to make preparations for policing the 310-mile (500-kilometer) frontier with Northern Ireland in that situation, according to two people familiar with the matter.
That has yet to translate into any concerted attempt to force Varadkar to move. Still, a looming no-deal also creates its own internal pressure on Dublin, given what Central Bank Governor Philip Lane described last week as "the very severe and immediate disruptive effects" it would have on the economy.
"It's true the government hasn't much wiggle room," said Creighton. "But Leo is a supreme political communicator and if he had to sell the message that we did the responsible thing to avoid a no deal and the devastating economic consequences -- I think he could do it."
Still, minutes after Lane spoke, Varadkar went off script to say the Irish peace process is "much more important than money and jobs."
Speaking privately, seven former and current officials who have worked with Varadkar said he won't flinch in what one described as the "test of a lifetime."
The EU has his back, pledging to provide Ireland with support in a no-deal scenario, cushioning the farmers who stand to lose most if the U.K. crashes out. With no guarantee that any tweaks would ensure London would back the deal, the bloc is content to double down on the current deal for now, according to one official.
And like May, Varadkar is boxed in by his fragile political position. Privately, he's concerned that his room for maneuver is limited, according to one person familiar with his thinking. His minority government is propped up by the biggest opposition party, Fianna Fail, which could pull the plug were he to cave in completely.
The political consequences of a no-deal scenario might be far less -- the British would draw most of the blame in Ireland, according to one former official. So far, there's been almost complete support for the backstop, even among business groups and farmers.
"He represents a new Ireland, where we don't have to accept a second best, " said Senator Neale Richmond, a self-professed ally and friend, quipping Varadkar reminds him of Roy Keane, the Irish soccer international who left the World Cup in 2002 after a row over the team's inadequate preparations. "He's a steely guy, he's got backbone."