Brexit Doomsayer Ryanair Forges Ahead With U.K. Expansion Plan
(Bloomberg) -- One of the fiercest corporate critics of Brexit is doubling down on the U.K.
Ryanair Holdings Plc chief Michael O'Leary said Wednesday his company will add 23 destinations at four London airports for its summer 2019 timetable, to be introduced days after Britain is due to quit the European Union on March 29. Passenger numbers at the bases are forecast to gain 5 percent to 26 million.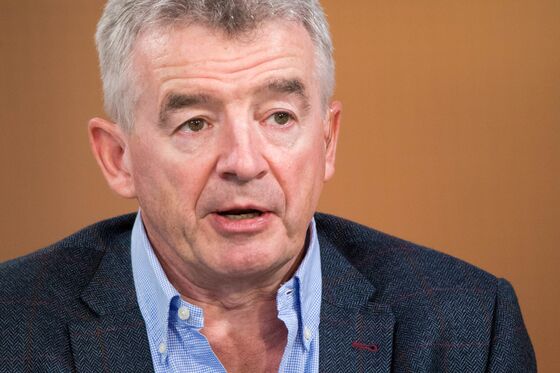 In unveiling the plan, O'Leary conceded that any groundings caused by a so-called no-deal Brexit would probably last a matter of days -- if only because even hardliners would be cowed into reinstating services by a public backlash.
"We don't think those disruptions will last very long because they are politically unsaleable both to the British electorate and the EU electorate," O'Leary told Bloomberg Television. "Even Jacob Rees-Mogg and some of the crazier wing of the Brexiteers will struggle to explain why there are no flights," he added, referring to the chairman of the European Research Group of euroskeptic Conservatives.
O'Leary, who once warned that Britons would be limited to Irish ferry journeys and Scottish road trips after Brexit, said Ryanair remains "very concerned" about the chances of an non-negotiated schism that could idle flights. Other industry chiefs and U.K. Transport Secretary Chris Grayling have said they see little likelihood of services being grounded.
Should it be impossible to secure a definitive agreement in the time available, the carrier is in favor of a proposed 21-month transition deal guaranteeing the status quo. "At least we kick the can down the road," O'Leary said, adding that he expects Prime Minister Theresa May to be overthrown by Christmas, with a pro-Brexit successor taking charge and having to buy time for further talks.
The 57-year-old Irishman struck a conciliatory tone when asked about the hacking of almost 400,000 customer accounts at rival British Airways, and even the performance of Grayling.
"I am no longer in the position given the job I've done over the last 12 months to be haranguing others about the job they're doing," he said. "I have enough to do myself at Ryanair and clearly I need to improve my own performance."
The carrier has faced a year-long industrial dispute involving pilots and flight attendants that's seen hundreds of flights scrapped and demand and fares slide. In the most recent strike in Germany the company has cancelled a third of services from its 11 bases after negotiations on pay and contracts failed.
Still, O'Leary -- whose current mandate as CEO expires in mid-2019 -- said Ryanair's board wouldn't have too tough a task in persuading him to stay on.
"It's been a challenging year," he said. "But challenging years are in many respects the most fun."