Brexit Bulletin: We Need to Talk About Northern Ireland
What's happening? Businesses are exasperated over the future of Northern Ireland, one of the most contentious, sensitive and politically toxic elements of Brexit.
The future of Northern Ireland is among the thorniest and most difficult challenges of Brexit, with companies still at a loss as to how they'll trade in the region once the Brexit transition period ends in 2021.
In law, the U.K. has signed up to enforcing an effective customs border in the Irish Sea, with goods crossing from Great Britain to Northern Ireland requiring new paperwork and potentially paying tariffs. In practice, despite EU protestations of back-sliding, the U.K. government continues to insist there will be no such border.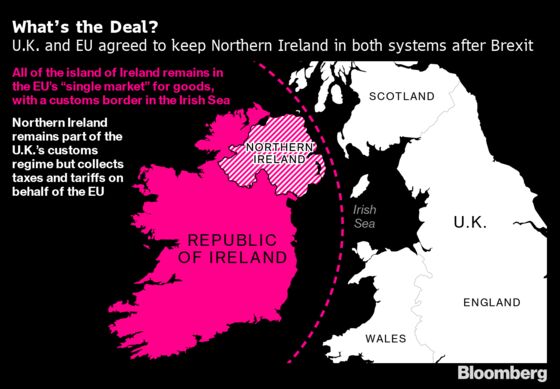 These contradicting lines spark exasperation in industry. There will be 'massive legal chaos' in Northern Ireland if Boris Johnson's government doesn't uphold the protocol, said Stephen Kelly, chief executive of Manufacturing NI, speaking at an Institute for Government event in London on Wednesday. Kelly said there's been no engagement between government and businesses in Northern Ireland on the issue.
Meanwhile companies seeking clarity on the situation are having no luck, said Anna Jerzewska, an independent trade expert. Businesses are asking their logistics providers what will happen, who are in turn asking the port operators, who in turn don't know, she said. And if the U.K. defaults on its legal obligations by not upholding the border, it would damage its international credibility when negotiating future trade deals, she said.
Even more so than fishing, this could be the issue that provokes the first big bust-up between the U.K. and EU during the trade talks. Without a clear public declaration from the U.K. on its intentions for Northern Ireland, it will 'poison the well' of the negotiations, said Denis Staunton, the London editor of the Irish Times newspaper.
Michael Bloomberg has ended his bid for the Democratic presidential nomination and endorsed Joe Biden.
Italy is considering closing all schools and universities as it redoubles efforts to curb the spread of the coronavirus epidemic.
The stockpiling crisis that has hit supermarkets across Asia has spread to Europe as consumers start hoarding groceries and hygiene products amid fears of a pandemic.
Sea Change | U.K. Environment Secretary George Eustice said he is "optimistic" Britain and the European Union will reach an agreement on fishing rights by July 1, removing a key obstacle to a wider trade deal. 
Spreading Sickness | The coronavirus outbreak is disrupting the U.K.'s nascent economic recovery in the wake of Boris Johnson's election win.
Hey, Big Spender | Johnson should look beyond large transport projects to ensure the billions of pounds of planned extra spending in the upcoming budget boosts the whole U.K. economy, according to the Resolution Foundation.
Lessons Learned | In some parts of the world people are used to unpredictability, but Europeans are not. Brexit has made them aware of the importance of staying together, writes Caroline de Gruyter in the EUobserver. 
Brexit Bank Holiday | 'United Kingdom Day' is one step closer to becoming a reality after clearing its first parliamentary hurdle.
Want to keep up with Brexit?