Brexit Bulletin: We Just Can't Take It Anymore
(Bloomberg) -- Today in Brexit: Spare a thought for the negotiators in Brussels. Go on, just for a moment. 
Just when you think you're out, they pull you back in.
In the small hours yesterday morning, members of Michel Barnier's Brexit negotiation team were celebrating a deal with the U.K. over Belgian beers in one of Brussels's busiest bars. Theresa May's Cabinet had approved a draft of the Brexit withdrawal agreement hammered out over 17 months. Civil servants on both sides were jubilant. The 585-page "technical level" document was complete. Job done.
Conservative Party lawmakers in London had other ideas. They grabbed the headlines, either through resignation (Dominic Raab, Esther McVey and more), indignation (Jacob Rees-Mogg, seen here), or determination (Theresa May in her 5 p.m. press conference). Between them, they put a huge question mark over whether the negotiators' work will ever come into force.
As Ian Wishart reports, bureaucrats in Brussels are weary of the political drama in the U.K. and say their governments are increasingly becoming disengaged from Brexit. "We think we have, on both sides, exhausted our margin for maneuver under our respective mandates," said one European Union official close to the negotiations, speaking on the usual condition of the anonymity.
For the EU, the alternative doesn't bear thinking about. "If someone wishes for changes they also have to take responsibility and assess what this does to the process," the official said.
One person who is taking responsibility: Theresa May, at least according to voters in two Brexit-backing towns on the outskirts of London. With chaos engulfing Westminster, Bloomberg's Lucca De Paoli, Jack Sidders and Natasha Bowler visited Sevenoaks in Kent and Harlow, Essex to see how local residents were reacting to the political noise.
The upshot? The prime minister is having such a tough time that several of those asked said they feel sorry for her. The common refrain was that May has "the worst job in politics."
"I thought that she was remarkably resilient and persistent and tried her best to get something out of it," said Martin Berry, a pensioner in Sevenoaks. "But she was on a hiding to nothing from the start."
The bureaucrats of Brussels might just know the feeling.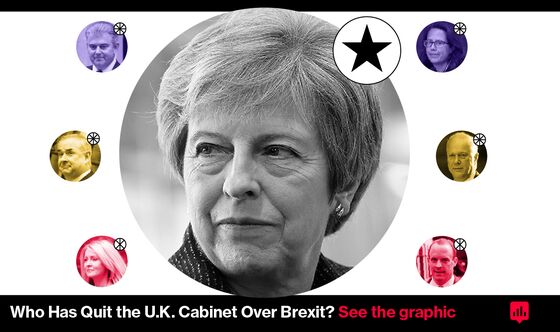 Not Now | Angela Merkel poured cold water on the idea of a renegotiation. "We have a document on the table that the U.K. and the EU-27 have agreed on, so right now the question of further negotiations doesn't arise for me," the German chancellor said yesterday.
Defying Gravity | Britain could soon challenge the theory that trade relationships are usually strongest between neighboring countries. Many economists who believe in that theory, known as trade gravity, predict it will be difficult for Britain to replace its commerce with the EU. A smaller group, however, espouse the benefits of a clean break. Bloomberg's David Goodman breaks down the economics.
Their Survey Says | Over half of Britons — 54 percent — would now prefer to remain in the EU, while 32 percent would prefer to leave without a deal and just 14 percent would choose Brexit on the terms negotiated by the government, according to a SkyData survey.
Transfer Market | England's Premier League clubs told Football Association officials that they don't plan to reduce the number of overseas players they sign after Brexit. Doing so could hurt their ability to compete in European competitions.
Car Talk | PSA Group, the owner of carmarker Vauxhall, is weighing its options in case of a drop in demand post-Brexit. The sister brand of Opel is looking at the feasibility of permanently shutting down one of its two sites in Britain.
Looking Ugly | The chances of a hard Brexit are "looking very tangible," according to Jane Foley, head of currency strategy at Rabobank. "The political backdrop from an investor's point of view now is looking really very ugly," Foley said in an interview with Bloomberg Radio.
On the Markets | The pound at one point yesterday was down 2 percent against the U.S. dollar. Executives from 10 City institutions met Bank of England and other regulators as the day unfolded, according to a person briefed on the talks. Sterling was up over $1.286 early this morning.
Want to keep up with Brexit?